Rogers Centre Nachos – Three (Very) Different Types
Posted by Kurt Smith
I wouldn't say that the home of the Blue Jays tops the list in ballparks known for culinary greatness, although they have definitely improved things in recent years. But that there are several different editions of Rogers Centre nachos is impressive to me; chips with stuff piled on them go over pretty well here.
Here are three places where you can get a piled mess of food on chips at the ballpark in Toronto:
Rogers Centre Nachos, #1) The Muddy York Market. The Muddy York is the large food court at Rogers, and there's a separate nachos stand where you can actually customize your plate of nachos.
Get a plate of smoked jerk chicken nachos with cheddar cheese sauce, pico de gallo, cole slaw (!), green onions and infused sour cream. Or pile on your own stuff, with toppings like cheese, chicken, salsa, corn, jalapenos, etc. Sour cream and guacamole cost extra…
(continued below)
Own the Ultimate Insider Fan's Guide to Rogers Centre TODAY…
for just $4.99!

Click the image to learn more!

Rogers Centre Nachos, #2) The King Club. At the Budweiser King Club bar area behind home plate is a carved meat station, and you can order "Bases Loaded Nachos". These babies are covered with beef brisket, BBQ sauce, jalapenos, caramelized onions, pico de gallo, three bean chili (!), and something called "pepper infused sour cream".
The Muddy York Market has BBQ nachos too, but they're not as BBQ, if that makes sense.
Rogers Centre Nachos, #3) The 12 Kitchen. The 12 Kitchen is named for star Jays (and Orioles!) second baseman and Hall of Famer Roberto Alomar, and has more of a Latin theme in its food. 12 nachos are made with a mix of plantain and tortilla chips (and rightly so, personally I don't get the kettle chips thing), covered with adobo spiced chicken, queso franco, guacamole, sour cream and green onions.
The ingredients for these nachos plates could change when you visit, but as I write this these are the three distinct food stands where you can get some variation of nachos at Rogers Centre. It's among the more popular non-hot dog foods inside this ballpark…but many fans go for the street meat outside too.
Eat well. If you're going to a Blue Jays game, plan ahead with this helpful and inexpensive guide.
More About Rogers Centre:
Visiting Rogers Centre – Five Tips For Newbies
The Best Way To Get To Rogers Centre
Bring Food Intro Rogers Centre: Street Meat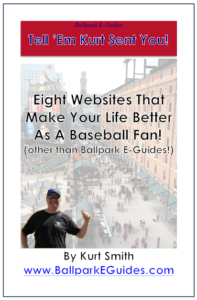 FREE eBook for traveling baseball fans! (That would be you.)

Do you love to visit ballparks and see live baseball? Subscribe to the Ballpark E-Guides e-mail newsletter today, and fill your scorecard with useful and entertaining info about your favorite ballparks, money-saving "tips of the week" for frugal fans, and of course, specials on the incredibly informative Ballpark E-Guides!
You'll also score this eBook, listing some of Kurt's favorite sites for traveling baseball fans, absolutely free of charge…just for stepping up to the plate and subscribing.
Get on base without swinging the bat…sign up today!
Want to save money on baseball tickets, parking and everything else?
If you go to baseball games, you're going to spend money…on tickets, parking, food and souvenirs, not to mention hotels and travel expenses if you're going on a baseball road trip.
I'm here to help…check out my Fan Resources page, where I share some of my favorite recommendations for buying tickets, booking baseball parking and saving on travel expenses.
Legal bit: My Fan Resources page contains affiliate links, so you can support this great website while making smart baseball decisions!