Yankee Stadium With Kids – Three Things To Know
Posted by Kurt Smith
Visiting Yankee Stadium with kids is easier than it once was; there are more cheap Yankees tickets options and more things to do for the young ones. If you're making a day of a Yankees game with the family, here are a few things you should know.
Yankee Stadium With Kids, Tip #1: The Kids Clubhouse. It's not as big and fun as some ballpark kids' sections, like the ones in Philadelphia or Cleveland, but the Yankees did finally add a spot with a lot of soft surfaces and games and slides for the little ones. Kids can throw pitches, run bases, and put their faces in photos. The kids area is in right field in the upper level, and you can usually find cheap tickets for nearby sections.
In a recent visit I took my kids and this was their favorite part of the venture (they're too young yet to appreciate a well-executed sacrifice). There's also a nursing area. Not a bad view of the Bronx from there, if you like looking at the Bronx.
(continued below)
Own the Ultimate Insider Fan's Guide to Yankee Stadium TODAY…
for just $4.99!

Click the image to learn more!

Yankee Stadium With Kids, Tip #2: Park Close And Arrive Early. Yankee Stadium is shoehorned into a very congested area, and it's the urban part of New York City that completely lacks the glamour and glitz of Manhattan. Trains going by are loud, and as game time approaches it gets very crowded.
It's definitely not cheap to park close to the stadium, but if you don't have the option of using Metro-North or the MTA, you won't want to be too far away, especially if you're not familiar with the area.
You can let them play on Macombs Dam Park for a while to burn off some energy before the gates open, and if you use the River Avenue garage, you'll be close to souvenir shops that are much cheaper than inside.
Yankee Stadium With Kids, Tip #3: Take Advantage of Specials. The Yankees, believe it or not, do make some tickets affordable for families. There are discounted tickets for kids on weekends, Yankees Universe memberships for kids that include tickets and fast track entry into the Stadium (which is NO small thing here), and frequent discounted tickets available in the Yankees newsletter.
If you want to take the kids to just one game, I highly recommend looking into Yankees Universe memberships especially. It can save you quite a bit of cash.
There's three tips for making a Yankees game with the children a more fun and affordable experience; it's never too soon to introduce them to baseball.
If you'd like to know more about all things Yankee Stadium, check out this indispensable and informative guide.
Click here for more great Yankee Stadium tips!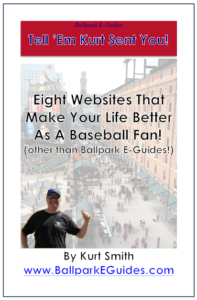 FREE eBook for traveling baseball fans! (That would be you.)

Do you love to visit ballparks and see live baseball? Subscribe to the Ballpark E-Guides e-mail newsletter today, and fill your scorecard with useful and entertaining info about your favorite ballparks, money-saving "tips of the week" for frugal fans, and of course, specials on the incredibly informative Ballpark E-Guides!
You'll also score this eBook, listing some of Kurt's favorite sites for traveling baseball fans, absolutely free of charge…just for stepping up to the plate and subscribing.
Get on base without swinging the bat…sign up today!