Five Nationals Park Tips For Newbies
Posted by Kurt Smith
If you're visiting the ballpark in our nation's capital for the first time, or if you're coming from out of town, there are definitely a few things you should know…here are five Nationals Park tips for a great ballpark experience.
Nationals Park Tips, #1: Check the Nats website for deals. The Nats offer some decent deals on tickets for a team that has been contending. If you subscribe to the team newsletter, they'll send them to you in e-mails. For low demand games especially, the team will often offer buy one get one or discounted food deals.
Nationals Park Tips, #2) Consider standing room. I could give you some seating recommendations, but if you really want to go cheap, you can go to the Nats box office on game day and get those Grandstand seats for almost nothing. But you don't have to sit way up there…in the upper level in the outfield are some great food items and lounge areas, and quite a few spots where you can grab a stool and sit and rest your food on a counter. If you don't mind standing, there are rails to lean on almost everywhere else in the ballpark, just make sure your bladder is empty before you stake a good one.
(continued below)
Own the Ultimate Insider Fan's Guide to Nationals Park TODAY…
for just $4.99!

Click the image to learn more!

Nationals Park Tips #3) Take the Metro. Advice varies on the best way to get to Nats Park, but the parking situation there is among the worst in baseball. There are a limited amount of lots, and even the ones that are a mile or more away can be $20. The traffic situation for games has improved, but it's still not much fun if you are there less than two hours before gametime. Even street parking is scarce and expensive. Just take the Metro. It isn't perfect, but it beats the traffic and parking prices.
Nationals Park Tips #4) Get a Ben's Chili Half-Smoke. It's not cheap…ballpark food never is…but save the Shake Shack and Box Frites and that Danny Meyer stuff for your next trip to Citi Field. Ben's is a real, genuine D.C. institution, and their spicy sausages with chili and cheese are still a go-to item here. There are lots of great choices for food at Nationals Park, like the Jammin' Island jerk chicken and the Mike Isabella sandwich stands, but try the Ben's dog first.
Nationals Park Tips #5) Be in your seat in the middle of the fourth. One of the stories you want to share with people about your first game at Nats Park, of course, is not only who won the famous President's Race, but also the spectacular fashion with which Teddy Roosevelt lost. And you'll want to read about it in the excellent "Let Teddy Win" blog the next day.
Finally, if you're a visiting team fan, expect the locals to be respectful so long as you're not in their face. Nationals fans have had to deal with visiting Phillies and Mets fans, and they tolerate a lot. They're nice people, but don't push them. At least unless you plan on buying hot dogs for an entire section. (Yes, I saw a really loud and obnoxious Mets fan do that once. It's a goofy goofy game.)
There's a whole lot more to know about visiting Nats Park; be sure you are prepared in advance with one of these.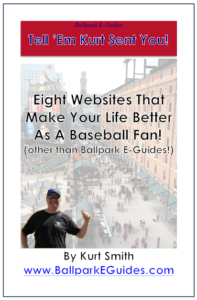 FREE eBook for traveling baseball fans! (That would be you.)

Do you love to visit ballparks and see live baseball? Subscribe to the Ballpark E-Guides e-mail newsletter today, and fill your scorecard with useful and entertaining info about your favorite ballparks, money-saving "tips of the week" for frugal fans, and of course, specials on the incredibly informative Ballpark E-Guides!
You'll also score this eBook, listing some of Kurt's favorite sites for traveling baseball fans, absolutely free of charge…just for stepping up to the plate and subscribing.
Get on base without swinging the bat…sign up today!