Three Extra Nationals Park Tips For Fans
Posted by Kurt Smith
Hopefully you've found some helpful Nationals Park tips elsewhere on this website…you really don't want to miss the Ben's Chili Half-Smoke. Here are a few more things to check out in your next trip to the ballpark.
Extra Nationals Park Tips, #1: The Presidents' Race. The whole idea of racing mascots started in Milwaukee, I think, with five different types of sausages racing against each other. The Presidents' Race in Washington is in a similar vein, but with all due respect to the racing sausages, I like the Presidents' Race better, because of Teddy Roosevelt.
Teddy (almost) never wins, you see, and it's always for some wacky reason: unauthorized use of a feline, pre-game warmup injuries or dive-bombing a racing sausage when the Brewers come to town.
There is a terrific blog devoted to Teddy's mishaps called "Let Teddy Win" (check out the celebration of Teddy's long-awaited first victory). Well worth seeing in the middle of the 4th inning, and the Nats do it again if there's a 13th inning. The mascots often greet fans before the game outside of the center field gate.
Extra Nationals Park Tips, #2: The Motion Statues. OK, I get the whole idea of trying to create the illusion of motion in a statue, and sometimes statue makers can pull it off. This isn't one of those times. Walter Johnson, possibly the greatest pitcher in history, looks as though he has six arms. What's wrong with just depicting the guy in the middle of his windup? It worked just fine for Steve Carlton in Philly.
I hate to be critical of Nationals Park, because it's a great venue, but they kinda goofed on this one. So that, in itself, makes these statues worth seeing. Check out Frank Howard swinging six bats, and Josh Gibson carrying a bat behind him with his third arm. And don't try that at home.
Extra Nationals Park Tips, #3: The Upper Concourse View. As you get out into the right field area of the upper level, there is a really terrific view of the Anacostia River. Even if you don't have a seat in this area, it's worth taking the elevator or the stairs to get to the upper level and have a look. And from there it isn't far to get to the party area behind the scoreboard.
By the way, from the upper concourse you can also see the Washington Monument and the Capitol…enjoy that view before more high rises get in the way.
That's just three helpful Nats Park tips; if you want to have the best experience at the best price, be sure to plan ahead and read this handy little guide first.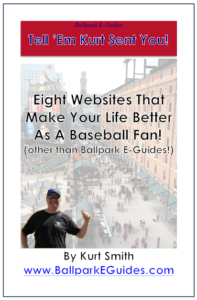 FREE PDF for traveling baseball fans! (That would be you.)

Do you love to visit ballparks and see live baseball? Subscribe to the Ballpark E-Guides e-mail newsletter today, and fill your scorecard with useful and entertaining info about your favorite ballparks, money-saving "tips of the week" for frugal fans, and of course, specials on the incredibly informative Ballpark E-Guides!
You'll also score this PDF, listing some of Kurt's favorite sites for traveling baseball fans, absolutely free of charge…just for stepping up to the plate and subscribing.
Get on base without swinging the bat…sign up today!