What To Eat At Nationals Park – Three More Foods
Posted by Kurt Smith
I've partially answered the question of what to eat at Nationals Park with this post about Ben's Chili and Jammin' Island BBQ, but the Nationals Park food menu is too diverse and high end for one post. Here are three more great foods to try at the home of the Nats:
What to Eat at Nationals Park, Tip #1: Enzo's Pizza. The Nationals wisely decided to eschew Papa John's in favor of Enzo's recently, which is a move we can all applaud. If a ballpark is going to represent local foods, that should include pizza.
This writer tried a slice of Enzo's in a recent visit to Nats Park and was well pleased, and it isn't easy to please a South Jersey guy when it comes to pizza. In fact, it might be the best slice of pizza I've had at a ballpark (although in fairness, as of this writing I haven't tried Two Boots). The crust is thin and it comes with an ample amount of pepperoni. It's on the greasy side, but you can pat it with a napkin if you care about such things.
From Papa John's to Enzo's. +1 Nats.
(continued below)
Own the Ultimate Insider Fan's Guide to Nationals Park TODAY…
for just $4.99!

Click the image to learn more!

What to Eat at Nationals Park, Tip #2: The Roasted Cauliflower Sandwich. What? A sandwich with roasted vegetables at a ballgame? But Kurt, the whole ballpark food thing is about hot dogs and popcorn and…
Yeah, I get that. But this sandwich has a few things going for it…it's made by chef Mike Isabella of G Sandwich fame, it's good and messy with the romesco sauce, arugula, and pickled vegetables piled into it, and it's actually pretty decent value for a ballpark (as is the Italian hero at this stand).
Besides that, it's vegetarian, healthy, all that stuff. Which makes you feel less guilty about some sort of dessert, like…
What to Eat at Nationals Park, Tip #3: District Doughnuts. The District Doughnuts stand was added in 2015 I believe; it's from a Barracks Row store that is very well known with locals for their hot and crispy donuts.
The District Doughnut people admit that their doughnuts are smaller than the industry average (seriously…one of their reps told me that)…but that's on purpose. It helps the flavor, see. As a doughnut lover, I can vouch for the value of small and toasty doughnuts.
At the Nats Park edition of DD, you can get the simple vanilla, cinnamon sugar or powdered sugar doughnuts; they might have an unusual flavor like their popular Dulce De Leche when you visit.
There you go folks…but I've only covered a small sampling of the phenomenal food selection at the ballpark in D.C. You'll want to know about the Cajun mac and cheese, the loaded baked potatoes, and that amazing Babka ice cream sandwich, among many other choices. Don't miss out on the cool stuff…get yourself one of these and think ahead!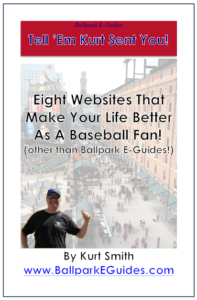 FREE eBook for traveling baseball fans! (That would be you.)

Do you love to visit ballparks and see live baseball? Subscribe to the Ballpark E-Guides e-mail newsletter today, and fill your scorecard with useful and entertaining info about your favorite ballparks, money-saving "tips of the week" for frugal fans, and of course, specials on the incredibly informative Ballpark E-Guides!
You'll also score this eBook, listing some of Kurt's favorite sites for traveling baseball fans, absolutely free of charge…just for stepping up to the plate and subscribing.
Get on base without swinging the bat…sign up today!