Three More Yankee Stadium Tips For Fans
Posted by Kurt Smith
OK, so now you've read some Yankee Stadium tips here, about how to save money on tickets, how to get there, and what to eat when you get there. Of course you'll enjoy the ballgame, but there are some things you should take the time to see—forgive me if they're fairly obvious:
Extra Yankee Stadium Tips, #1: Monument Park. Get to Yankee Stadium early, and/or use a gate close to center field (I think Gate 8 is closest), and make Monument Park in center field your first stop.
In case you could not be aware, Monument Park is where the busts of the greatest Yankees are found, with tributes to their careers, along with pinstriped retired numbers—with most of the single digit numbers gone.
Of course you know how great Ruth, Gehrig, DiMaggio and Mantle were, but Whitey Ford, Roger Maris and Ron Guidry were pretty good too. Recently the big bust of Boss George Steinbrenner was added overlooking all of them, just as he so gently did as a seven time World Champion owner.
Again, get here early though, because it fills with visitors very quickly, and the line may be so long that you might not make it in before it closes 45 minutes before game time.
Extra Yankee Stadium Tips, #2: The Yankees Museum. The excellent Yankees Museum is located near Gate 6, up a ramp to the Main Level. It features artifacts all through the team's great history, dedicating them by the stars or each era, e.g. "The Derek Jeter Era" of the late 1990s and early 2000s.
You'll see a very old flyer advertising "See Babe Ruth In Action", World Series trophies through the years, Thurman Munson's locker, and a long glass casing of baseballs signed by Yankees from all eras. In the center of the room are two statues, depicting Don Larsen throwing the final pitch of his World Series perfect game to Yogi Berra.
The Yankees Museum is open throughout the game, so you can visit it if the climate is too rough or the Yankees aren't having a great day. The game is broadcast in the room. No flash photography.
Extra Yankee Stadium Tips, #3: The Great Hall. As if Monument Park and the Yankees Museum wasn't enough, the Great Hall serves as another reminder of all of the players you either loved or hated depending on your world view.
The Great Hall is where two of the main entrances to the Stadium are, so they get crowded before the game, but it is spacious enough to accommodate a typical Yankee Stadium crowd. The Great Hall isn't climate-controlled per se, but it's comfortable enough, and you can look around and see larger than life photos of Billy Martin, Goose Gossage, or Reggie Jackson doing what they did best in their prime.
The Great Hall is actually best viewed from above, in front of the entrance to NYY Steak. You can overlook and people watch from this vantage point, without anyone bumping into you.
There's a whole lot more to know about the home of the Bron Bombers, especially if you'd like to save money on the trip. This handy little guide will be a big help.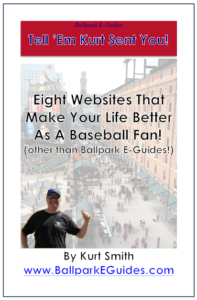 FREE PDF for traveling baseball fans! (That would be you.)

Do you love to visit ballparks and see live baseball? Subscribe to the Ballpark E-Guides e-mail newsletter today, and fill your scorecard with useful and entertaining info about your favorite ballparks, money-saving "tips of the week" for frugal fans, and of course, specials on the incredibly informative Ballpark E-Guides!
You'll also score this PDF, listing some of Kurt's favorite sites for traveling baseball fans, absolutely free of charge…just for stepping up to the plate and subscribing.
Get on base without swinging the bat…sign up today!