Three Extra Comerica Park Tips For Fans
Posted by Kurt Smith
Hopefully you've found some great Comerica Park tips on this website…glad to help with where to park and what to eat. Here are a few extra tips for your visit…
Extra Comerica Park Tips, #1: Bring the kids. When Comerica Park first opened, it was highly unusual to have play areas for the kids in ballparks, let alone a carousel and a Ferris wheel. But when you think about it, it makes a lot of sense. It's tough to keep a kid engaged for nine innings.
At Comerica the carousel is located in the Big Cat Court, so there's plenty of food to much on and you can sit at a picnic table and watch the kids ride. Similarly, the Ferris wheel is located near the Brushfire Grill, and there are places to sit and watch if you're somehow not interested in getting in a baseball-shaped Ferris wheel car.
Kids can ride both for free on Sundays, by the way, but it's not too expensive to ride them on other days, and it's less crowded.
Extra Comerica Park Tips, #2: The Front Gate/Tiger Statues. The front gate at Comerica Park, which is actually on the right field side, is the most popular entrance because of the photo ops. But it's worth the wait if you've never been, because of the tiger statues. They are large and intimidating enough that you may think "boy, if these were real, I'd be in deep you-know-what".
In particular the large tiger at the front entrance is a great photo-op, if for no other reason than to use a human to give some perspective on its size. This and the huge bats arranged to make the entrance look like a cave, makes the front gate at Comerica well worth the line.
Extra Comerica Park Tips, #3: Player Statues. In left center field are the retired numbers of Tigers greats, and behind them are statues of them in their familiar positions, like Ty Cobb's hard slide or Al Kaline's reaching catch. Word is that small spikes were built into Kaline's glove, so that if a ball lands there it will stick. Maybe someday.
The statue designer pulled off the motion bit a little better than whoever designed the statues in Washington, and these are worth a look to reminisce on Tigers greatness. If you're there during the game though, keep an eye on the game, because you may get sprayed by the nearby fountain if a Tiger homers.
Here's a little secret a Tigers employee told me about. If you look closely at the mound at the bottom of the Charlie Gehringer statue, you can see a face. He told me it was Babe Ruth. I can't confirm that, but he's probably right.
That's just a few great tips for experiencing Comerica Park; if you want to rock the house in your next visit, get yourself one of these.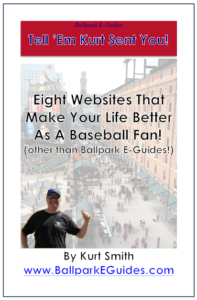 FREE PDF for traveling baseball fans! (That would be you.)

Do you love to visit ballparks and see live baseball? Subscribe to the Ballpark E-Guides e-mail newsletter today, and fill your scorecard with useful and entertaining info about your favorite ballparks, money-saving "tips of the week" for frugal fans, and of course, specials on the incredibly informative Ballpark E-Guides!
You'll also score this PDF, listing some of Kurt's favorite sites for traveling baseball fans, absolutely free of charge…just for stepping up to the plate and subscribing.
Get on base without swinging the bat…sign up today!