Get To Comerica Park – Three Tigers Shuttles
Posted by Kurt Smith
Most people use their car to get to Comerica Park. There is a decent amount of parking (I cover three good options here). But there are also quite a few establishments that will give customers a ride to the game in their "Tigers Shuttles"…and some fun party buses too.
I've listed three unorthodox ways to get to a Tigers game below…they can help you save some money and include a meal or a drink with your trip to the game.
Tigers Shuttles, #1: The Z's Villa Shuttle. I like the idea of using Z's Villa's shuttle to get to Comerica Park from their restaurant on Piquette Street as opposed to some of the others, for several reasons.
First, the shuttle and parking at Z's are both free for restaurant patrons. Many of the taverns that will give you a ride to Comerica might offer one or the other, but not many offer both. Hey, the whole point of this shuttle thing is to appeal to the tightwads among us, isn't it? OK, maybe not if the bar is great, but just saying.
Anyway, you're saved the parking charge, and because Z's is further than most places you'll save the traffic headaches too.
As far as grub, Z's is known for their pizza. I love pizza as much as any American, and Z's makes a pretty decent one. Not that their other food is second fiddle; I've heard the nachos are pretty good too. But you'll want to go to Z's especially if you're in the mood for pizza, with Comerica peddling Little Caesar's at a big price.
Z's Villa Website: www.zsvilladet.com
(continued below)
Own the Ultimate Insider Fan's Guide to Comerica Park TODAY…
for just $4.99!

Click the image to learn more!

Tigers Shuttles, #2: The Hard Rock Café Shuttle. I've always liked Hard Rock Cafes, because even though it's a chain their restaurants usually highlight local stars, so each one is unique in its own way. Detroit's Hard Rock is no exception, celebrating a rich history of musical stars like Ted Nugent and Kid Rock. And the food is generally good, especially their burgers.
The Hard Rock on Monroe Street in the downtown D shuttles customers from the restaurant to the ballpark, and they'll even throw in free parking in the Compuware garage nearby when you get your ticket validated inside.
This is especially a great deal if you're visiting Detroit, since (assuming there isn't a limit on the amount of time you park, which I didn't see) the Hard Rock is not far from the Cadillac Center Station on the People Mover. You can take a look at some other attractions like Greektown or the Renaissance Center, have dinner, and then let the Hard Rock take you to the ballpark. Enjoy a full day in Detroit without paying a penny for parking.
The Hard Rock has specials too; I believe there are Happy Hour prices on drinks and there is a lunch special every day. If you're getting your feedbag on before or after the game, the Hard Rock is a good choice.
Click here for Hard Rock Café Detroit Website.
Tigers Shuttles #3: The Detroit Tigers Party Bus. The Party Bus is a great option if you're coming from the Royal Oak area; they pick up fans from the Blackfinn Ameripub and give them a ride to the game. You can get an all-inclusive ticket that includes a seat in Kaline's Corner, and Labatt's beer and drinks with Tito's vodka are complimentary for the ride. Much better deal than if you pay for drinks in the ballpark.
They only serve water on the ride back, so by the time you get back to Royal Oak you should be okay to drive home. Nice and convenient and saves you traffic and parking hassles, and you can mingle with fellow fans before a game.
And here's the best part for you tightwads…if you help the Party Bus people, they'll help you. You can volunteer to seat people and serve drinks on the bus, or get a group together to go, and your ride and drinks are free…which is something like a $30 value. Get to the ballpark for free with a beer just for social skills!
Detroit Party Bus website: http://tigerspartybus.thesocialconnectionevents.com/
Incidentally, there are quite few more establishments with Tigers shuttles that will give you a ride to the ballpark, like Harry's, McShane's in Midtown, and quite a few others. If you want to learn about more of them, get yourself one of these.
(Detroit Party Bus logo courtesy of Detroit Party Bus.)
More About Comerica Park:
Visiting Comerica Park – Five Tips For Newbies
Comerica Park Seating – Three Suggestions
Three Foods To Try at Comerica Park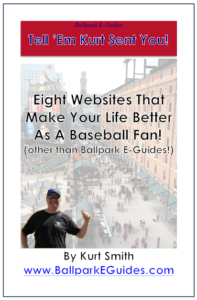 FREE eBook for traveling baseball fans! (That would be you.)

Do you love to visit ballparks and see live baseball? Subscribe to the Ballpark E-Guides e-mail newsletter today, and fill your scorecard with useful and entertaining info about your favorite ballparks, money-saving "tips of the week" for frugal fans, and of course, specials on the incredibly informative Ballpark E-Guides!
You'll also score this eBook, listing some of Kurt's favorite sites for traveling baseball fans, absolutely free of charge…just for stepping up to the plate and subscribing.
Get on base without swinging the bat…sign up today!