Comerica Park Food – Three Things To Try
Posted by Kurt Smith
The Tigers have been stepping up and improving the Comerica Park food menu, not just with restaurants but with more unique food stands and kiosks. I used to think the food selection at Comerica was unremarkable, but that has definitely changed. Here are three suggestions if you're planning a visit…
Comerica Park Food Tip #1: The Late Night Burger. The 313 Burger Company in the Big Cat Court has a burger that does it all…it's breakfast and dinner, it's steak and eggs, it's a meal in a sandwich. It's that Late Night Burger…so named for those visits to restaurants whose best selling point is being open all night.
The Late Night Burger is a burger with bacon, cheese and a fried egg, with some fries in your basket for that true diner feel. I kind of think there are no condiments necessary on this one, but I'm sure some would pour on the ketchup.
The Late Night carries a price tag, but at least you don't have to find a local Denny's to enjoy one.
(continued below)
Own the Ultimate Insider Fan's Guide to Comerica Park TODAY…
for just $4.99!

Click the image to learn more!

Comerica Park Food Tip #2: Beef Brisket Nachos. Comerica has quite a few types of nachos; you can find them at the Mexican stand in the Big Cat Court obviously, and they've got some good stuff piled on, and there are even Shawarma nachos with pita chips in the lower concourse. But Ballpark E-Guides Nachos of Choice at Comerica from the Barbecue stands in the concourse and at the 313 BBQ picnic area.
I mean, look at this thing. Certainly enough for two and if you want to convince yourself it's healthy you're getting all of the fifteen food groups in here. The best part is that if you miss the Potachos from Michigan Craft Beer, the nice folks at the Tigers organization made these with kettle chips as well.
Comerica Park Food Tip #3: The Coney Dog Pizza. I won't lie to you and tell you this is the greatest slice of pizza I've ever had, or that it's even the best slice I've ever had in a ballpark or in Detroit. Little Caesar's is one of those chains known more for quick and inexpensive pizza, which has worked out pretty well for them.
But it's one of those things that 1) you have to try just for the novelty of it and b) offers something different from the usual slice of pizza. The Coney Dog pizza is made with beanless chili sauce and includes hot dog bites on it. A great idea, combining two of America's favorite foods.
There's three food items to try at the ballpark in Detroit, but there are many more…like the aforementioned shawarma nachos, the fried bologna sandwich at Michigan craft beer, and of course the Late Night dog. Just make sure that you come prepared.
More About Comerica Park:
Visiting Comerica Park – Five Tips For Newbies
Comerica Park Seating – Three Suggestions
Comerica Park Parking – Three Affordable Spots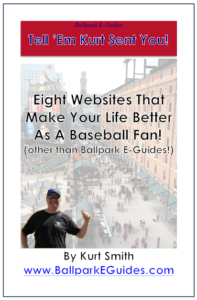 FREE eBook for traveling baseball fans! (That would be you.)

Do you love to visit ballparks and see live baseball? Subscribe to the Ballpark E-Guides e-mail newsletter today, and fill your scorecard with useful and entertaining info about your favorite ballparks, money-saving "tips of the week" for frugal fans, and of course, specials on the incredibly informative Ballpark E-Guides!
You'll also score this eBook, listing some of Kurt's favorite sites for traveling baseball fans, absolutely free of charge…just for stepping up to the plate and subscribing.
Get on base without swinging the bat…sign up today!