A Trip To The Jake
Posted by Kurt Smith
One day in late June of 1994, I stood at my coil-winding machine wondering what I was going to do with my long weekend. The Fourth of July yielded two whole days off from my employer, who no doubt was trying to weasel out of giving holiday pay to their undeserving employees. With my Orioles in Cleveland, I pondered taking a road trip.
The city of Cleveland had begun a long overdue resurgence. A brand new ballpark, Jacobs Field, had finally replaced Municipal Stadium, a place that could have been used for religious pep rallies. The Gund (now Quicken Loans) Arena, the new home of the Cavaliers, had emerged next door. The city barely edged out Philadelphia as the home of the Rock and Roll Hall of Fame. Suddenly, in a matter of just months, the Mistake on the Lake was a worthwhile place for tourists to spend a few dollars.
I had a new car, a 1993 Chevrolet Lumina. I didn't doubt that it could get me there from Willingboro, NJ. But I didn't want to drive eight hours to a rainout. Right up until that morning, I was still apprehensive. Why, I don't know, although it might have had something to do with a Baltimore game getting rained out the year before, and that's just a two hour drive. Apparently I considered it a big enough deal to be full of trepidation about going.
Watching the Weather Channel, there was rain in the forecast just about everywhere in the country. Except in Ohio.
(continued below)
Own the Ultimate Insider Fan's Guide to Progressive Field TODAY…
for just $4.99!

Click the image to learn more!

A phone call to their local weather confirmed a clear evening. A sign from the Baseball Gods. Finally at about 10:00 AM, I pulled the trigger. Ordered a ticket, got in the car and went.
A light drizzle peppered me along most of the Pennsylvania Turnpike, but shortly after crossing the Ohio border, following a rest stop with a fill-up and a Whopper, angel choirs sang and the skies began to clear…and by the time I had reached the city, it was a gorgeous 73-degree evening…a perfect night for baseball. I hopped off I-77 at East 9th Street, finding a parking spot at the bar that is now "Local Heroes" or something just minutes before gametime. Downtown Cleveland.
I circled the ballpark on foot and took in Cleveland's newest jewel with awe. The white steel, the limestone façade, toothbrush lights, a horde of newly awakened baseball fans. Just as fresh and stylish as Camden Yards, yet completely different.
All on a beautifully clear, temperate early evening made doubly special by the dark, rainy weather that I had experienced most of the day. I managed to grab a program and find my seat just before gametime, staring at the huge "Indians" atop the scoreboard and marveling at the notion that I was in Cleveland.
And the game wasn't half bad. I believe I hold a small distinction of being present for Cal Ripken's only homer at the Jake. It put the Birds up 2-1 behind the crafty pitching of Jamie Moyer, one of the more underrated pitchers of his era (and this era, since he's still pitching as I write this).
I had forgotten about it, but I instantly remembered it when I saw his name in the boxscore. In the sixth inning Chris Sabo, playing in his only season for the O's, tried to stretch a routine single into a double and got thrown out by about an hour. I remember thinking that I wished the Orioles wouldn't sign National Leaguers.
Wearing my Orioles gear, I wasn't too popular with the guys on my right until I bought the guys on my left a beer. Then my right hand men struck a conversation with me, asking how many strikeouts Moyer had (that's why I keep score). The Indians scored later to make the score 2-2 by the seventh, when Moyer gave way to Mark Williamson, in order to face the then-mighty Albert Belle with one on.
I am convinced that backup pitchers are called relief pitchers because of the opportunity they provide to empty one's bladder. At least it worked for me. The Jake's architects were obviously fans, and installed speakers to broadcast the games in the men's room. Great idea, I thought, as I pulled up my pants listening to Williamson deliver the first pitch to Belle.
The temperamental Belle reacted by crushing the ball as only he could, and unleashed a mammoth blast into the left field bleachers. Returning to my seat I remarked to my neighbor that it was a good time for an Orioles fan to be not watching, and he agreed. Williamson would be out of the game a batter later without recording an out.
Cleveland won 4-2 with Mark Clark pitching a complete game. But for once I didn't mind an Orioles loss (I would certainly have to get used to it after 1997), even as a Cleveland fan sneered at me for wearing Orioles gear.
After the game I stopped in the bar where I had parked for a beer and a chat with a few other fans. That beer totaled four for the evening, a high number for me. Starting the trek towards home, I simply figured I would go as far as I could go, then crash in a hotel somewhere.
Back out on the Turnpike, with Devo playing on the stereo, I suddenly realized I was tired enough to sleep immediately. Stopping in a Dunkin Donuts on the highway for coffee, I went into the bathroom to splash some water on my face.
Picture a six-foot-four guy having removed his hat that he'd been sweating in all night (and I wasn't much for haircuts back then), dangerously close to falling asleep, with four beers sloshing around his system. What do you suppose this lanky, wide-eyed Geek looked like? If you said "an alien with an Orioles shirt on" you'd be about right. I pondered what the people at the counter were thinking when the deranged derelict came in for a cup of coffee. A good Thanksgiving story for many of them.
Crossing over the Pennsylvania border, I finally stopped off the first exit, waking up the nice hotel owner and just barely out-negotiating two other people for the last room in the place. It was a little spooky, actually–an out of the way little hotel at 2AM.
The next day that same hotel owner at the office recommended a diner called—I'm not making this up—Sadie's Big Beaver. And after a fine breakfast of bacon and sunny side up eggs, I enjoyed a long ride home across Pennsylvania, on a picture-perfect July day.
The Jacobs Field souvenir beer cup made it home with me, where I could display it next to the Camden Yards cup. With notes underneath for my roommates: Under Jacobs Field–"This is cool." And under Camden Yards–"But this is better." A sentiment I still carry today, with all respect to Cleveland fans.
Looking back it was one of the most enjoyable days of my life, perhaps even top five on that scale, and yet that morning I had to overcome my stupid hand-wringing and take the chance on going. What a difference a Nike moment can make.
So endeth the first Cleveland adventure, and the beginning of the making of a certified Baseball Geek. Of course, I wish back then that I was armed with one of these.
More About Progressive Field:
Visiting Progressive Field – Five Tips For Newbies
Three Foods To Try At Progressive Field
Progressive Field Parking – Three Swell Spots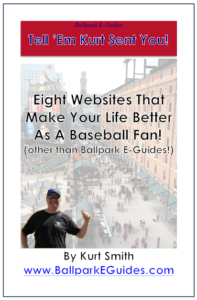 FREE eBook for traveling baseball fans! (That would be you.)

Do you love to visit ballparks and see live baseball? Subscribe to the Ballpark E-Guides e-mail newsletter today, and fill your scorecard with useful and entertaining info about your favorite ballparks, money-saving "tips of the week" for frugal fans, and of course, specials on the incredibly informative Ballpark E-Guides!
You'll also score this eBook, listing some of Kurt's favorite sites for traveling baseball fans, absolutely free of charge…just for stepping up to the plate and subscribing.
Get on base without swinging the bat…sign up today!