Wrigley Field Seating – Some Helpful Tips
Posted by Kurt Smith
There is a nifty Wrigley Field seating chart on the Cubs website, but there are a few things you should know that the chart doesn't tell you about. Like how to avoid obstructed views, for example. Here's a few things to know about Wrigley Field seating.
Wrigley Field Seating Tip #1: The Wrigley Guide. Both Wrigley Field and Fenway Park in Boston were built before that whole "open concourses with trusses" became prevalent in ballpark architecture, and as such the upper decks in both parks are held up by fairly wide support poles. These poles can cause a serious view problem to someone sitting in the wrong seat.
The Cubs and Red Sox do stamp the words "obstructed view" on certain seat tickets, but both clubs will not say as much unless the support pole nearly blocks the view of the entire infield.
Matt Motyka at WrigleyGuide clearly put a great deal of effort into showing fans how they can avoid being behind the dreaded support poles at The Friendly Confines. Type in any seat location, and the Wrigley Guide shows where a seat is on a seating chart, with the location of the poles marked so you have a good idea whether you will be behind one.
This is an invaluable tool if you are ordering tickets online; how many times have you ordered a ticket for a game and had the seat not be where you expected, even though you looked at the view from the seating chart? WrigleyGuide leaves no doubt of exactly where you'll be. Honestly, I don't know how these guys do this, but I'm grateful that they do.
And Motyka doesn't stop there – he also has plenty of information on how to attend a game at Wrigley Field. And he clearly knows the place well—good knowledge to have. If you're going to Wrigley and buying tickets online, use the Wrigley Guide website. You won't be sorry.
Wrigley Guide: www.WrigleyGuide.com
(continued below)
Are You Spending $312.32* For One Cubs Game?
*Average cost for a family of four in 2016.

You can do better. Click the image to find out how.
Wrigley Field Seating Tip #2: Some Wrigley Bleachers Knowledge. Like any classic ballpark, Wrigley Field has bleachers…real, bench-style, no back to lean on bleachers. A place to go and be in the sun on a beautiful summer day, a place to drink beer and get loud, a place to surround oneself with real nuts that bleed Cubs blue and bleed too much.
Most Terrace and Upper Deck Reserved seats cost less than the bleachers these days, although in both of those cases you could be sitting behind support poles that can block your view. (The Wrigley Field E-Guide explains how you can avoid them.) For prime games, say those against the White Sox or Cardinals, the price for these backless seats is a little absurd.
Still, it's the bleachers at Wrigley, and for many that is enough. There are some things you should know, though.
The bleachers are general admission—which doesn't mean that the place turns into a mosh pit, but it does mean that you have to get there early to stake out a good seat, and the favorite seats of most fans are the front rows in left field, where batting practice homers provide a plethora of souvenirs for early fans.
If you want one of those, you'd best get there sometime around four hours before the game, at least. (I am amazed at what people will do for a baseball. Consider that half of the balls people catch out there are going to be thrown back anyway.)
The bleachers are also separated from the rest of the ballpark and have their own private entrance at the corner of Waveland and Sheffield Avenues. This is important. Other ticket holders cannot visit the bleachers, but bleacher ticket holders can see the rest of Wrigley.
This means that if you want pictures of the whole ballpark, or you want to wander around the concourse before the game, you'll forfeit your chance at a good seat.
You should also know that you will be expected to throw back a home run ball hit by the opposing team, even though the Cubs supposedly don't allow objects to be thrown onto the field.
A story is told about how a Reds player hit a home run that was thrown back hard enough to land near third-base coach Ray Knight, who picked it up and tossed it to a fan in the nearby seats…who then threw it back onto the field. Knight laughed and tossed it into the dugout.
Next time you pull up the Wrigley Field seating chart, try the bleachers. You can take the tour and sit in the bleachers and that's great, but the main attraction there isn't the view, it's the fans. The bleachers and the seating bowl breed a different kind of Cubs fan, but both of them love their team.
That's just two helpful tips for seating at Wrigley Field; but there's a whole more to know about the seating in the Friendly Confines. When you go, be sure you're on top of it with one of these.
(WrigleyGuide logo courtesy of Matt Motyka.)
More About Wrigley Field:
Visiting Wrigley Field – Five Tips For Newbies
Three Cheap Ways To Get To Wrigley Field
Three Foods To Try At Wrigley Field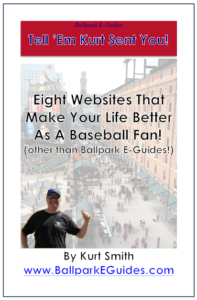 FREE PDF for traveling baseball fans! (That would be you.)

Do you love to visit ballparks and see live baseball? Subscribe to the Ballpark E-Guides e-mail newsletter today, and fill your scorecard with useful and entertaining info about your favorite ballparks, money-saving "tips of the week" for frugal fans, and of course, specials on the incredibly informative Ballpark E-Guides!
You'll also score this PDF, listing some of Kurt's favorite sites for traveling baseball fans, absolutely free of charge…just for stepping up to the plate and subscribing.
Get on base without swinging the bat…sign up today!