Fenway Park Seating – Two Helpful Tips
Posted by Kurt Smith
When it comes to Fenway Park seating, there's a whole lot to know. My lack of research is how I ended up with less than optimal seats in my first two trips to Fenway. So I'm here to help.
Fenway Park Seating Tip #1 – Precise Seating
Fenway was built in the early 1900s, when baseball owners tended to not give much of a whit about fan comfort or views. The goal then was to pack as many butts into the place as possible, and Fenway was clearly designed with this sort of expediency in mind.
The construction of the Fenway Park seating bowl (as with Wrigley) included support poles that are about a foot and a half wide to hold up the upper deck.
The placement of the poles is such that just about every grandstand seat is going to miss some portion of the field, so the Red Sox have a high standard when it comes to actually informing the consumer that their view is obstructed before stamping an "OV" on the ticket. Obstructed view seats were discounted once but no longer are.
So if you are informed that your ticket is obstructed view, know that either you are going to be sitting directly behind a support pole (and I mean directly behind it, really) or at least two key parts of the field are going to be blocked.
In other words, you could have a pole blocking your view of the pitcher's mound and it would not count as obstructed. So if the Red Sox say the view is obstructed, believe it.
But even with this knowledge, it doesn't help with Grandstand seats that bear no such warning, and you will want to know before you buy a ticket how bad it is. Fortunately, we live in a world where people give solutions away on the Internet.
(continued below)
Own the Ultimate Insider Fan's Guide to Fenway Park TODAY…
for just $4.99!

Click the image to learn more!

The "Precise Seating" website is operated by some dedicated and unselfish folks. They have clearly spent countless hours figuring all of this out. The purpose of the site is to provide vital information about as many seats in Fenway Park as possible.
While you are ordering tickets from the Sox's website or through another source, you can pull up Precise Seating, enter the section, row and seat number of your prospective ticket, and Precise Seating will provide all of this information:
– The exact location of the seat
– The portion of the field that will be obstructed from your view
– What percentage of the field you will be missing
– Whether there is a "walkway advisory" warning of people traffic in front of the seat
– Whether it is sheltered from the rain
– How many feet from the field the seat is
– A 3D view of the field from the seat
– A general rating of the seat on a 1-10 scale
For example: I put in Grandstand Section 18, Row 5, and Seat 6. Precise Seating gives this seat a 6 rating. It informed me that the pitcher's mound and 15% of the field is obstructed, that I can see all of the bases, that I'm sheltered from the rain, and that I will be 149 feet from home plate. Knowing that I wouldn't be able to see pitcher's mound, I would opt for another seat.
A lot of people complain about obstructed views at Fenway. Precise Seating gives you an opportunity to avoid them. With this available at no cost to you the consumer, there isn't any reason not to use it anytime you are ordering tickets to see a game at Fenway.
Precise Seating website: www.preciseseating.com
Fenway Park Seating Tip #2: Try Right Field Box, Close To The Infield As Possible
The cheaper seats on the Fenway Park seating chart aren't terrible by any means, but they do have their problems that sometimes can put a kink in your otherwise delightful Fenway Park experience.
There are the outfield bleachers that are the cheapest in the ballpark, with the upper outfield bleachers being a bargain at least for Fenway. But the shape of Fenway makes for probably more outfield seating than there should be, and the upper bleachers seats can be as far as 600 feet from home plate.
The other lower echelon of seats price-wise is the famous Grandstand, remarkably and perhaps rightly left untouched in the recent Fenway renovation. But as just stated, you run the risk of a support pole blocking a portion of the view.
The Right Field Box seats may cost a little more, but as far as seat comfort and view, you're probably getting more bang for your buck with it.
If you're sitting in Sections 6-8, or Sections 95-97 of the Right Field Box, you'll have as great a view of the action as can probably be had for a similar price. The Right Field Box seats are as close to the field as the high-priced premium box seats; they're just out past first base.
You'll see all of the action of course, and your seat will be a little more comfortable, without any poles in your way. Not to mention you'll be able to stare straight ahead at the Green Monster. When my wife consulted my father on what seats to get me at Fenway for my birthday, he considered that a selling point.
The only caveat is that when you get closer to the foul pole, the seats are facing straight ahead at center field rather than being angled towards second base or something, so you'll have to have your head turned for most of the game. This can get a bit annoying, especially when people walk in front of you. But in the sections I listed here, it's not much of a problem at all.
In my visits to Fenway these have by far been my favorite seats; arguably the best birthday present ever. My wife complained mildly about the cost (making me want to scream "why didn't you read my Fenway Park guide!"), but they were well worth it.
More About Fenway Park:
How To Get Cheap(er) Red Sox Tickets
Visiting Fenway Park – Five Tips For Newbies
How To Avoid Obstructed Views at Fenway Park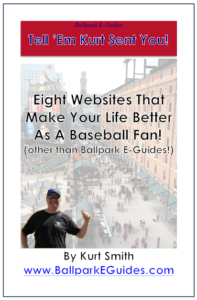 FREE eBook for traveling baseball fans! (That would be you.)

Do you love to visit ballparks and see live baseball? Subscribe to the Ballpark E-Guides e-mail newsletter today, and fill your scorecard with useful and entertaining info about your favorite ballparks, money-saving "tips of the week" for frugal fans, and of course, specials on the incredibly informative Ballpark E-Guides!
You'll also score this eBook, listing some of Kurt's favorite sites for traveling baseball fans, absolutely free of charge…just for stepping up to the plate and subscribing.
Get on base without swinging the bat…sign up today!