Fenway Park Food – Two Helpful Tips
Posted by Kurt Smith
The Fenway Park food selection has been gradually improving of late, with the new Taste of Boston features and greater selection in the Big Concourse. But here are two Fenway Park food institutions that have been around as long as most Red Sox fans can remember.
Fenway Park Food Tip #1: The Fenway Frank. No, it's not the best hot dog you'll ever eat. It's not even the best ballpark dog you'll ever eat, or even the best in the ballpark area. Many of the outside vendors make a better dog.
And sure, there's other great food choices, especially now that Yawkey Way has been added to the actual ballpark on game days. You can get a Cuban sandwich at El Tiante, barbeque pork sandwiches, pizza or any other ballpark specialty you could probably name.
It's just that it's a dog at Fenway. It's a Kayem Foods slightly garlic-spiced dog, wrapped in a white bread bun for a mushier texture. This may be what makes it special; at least, I've never seen the white bread bun on any other ballpark's hot dog.
If one Fenway Frank isn't enough for you, the Sox sell Monster Dogs in the Big Concourse in right field and on Yawkey Way.
(continued below)
Own the Ultimate Insider Fan's Guide to Fenway Park TODAY…
for just $4.99!

Click the image to learn more!

Regarding the Fenway Franks sold in the stands, by the way, they are boiled in water as opposed to grilled on rollers like at the concession stands. Whether you prefer one to the other is a matter of individual taste…I like my dogs boiled, but I think I'm in the minority on that. Either way, the Fenway Frank is the essential "Fenway Park food thing."
Fenway Park Food Tip #2: The Sausage Connection. Most inner city ballparks—Citi Field in New York being a strange exception — have no shortage of vendors hawking hot dogs, peanuts or T-shirts. Among the best ballparks for outside fare are Yankee Stadium, Wrigley Field, and Camden Yards. But Fenway smokes them all. Literally.
Travel around the entire block that Fenway occupies and you'll see and smell hot dogs, sausages and steak tips cooking, all available for a lesser price than you'll pay inside the ballpark (although, at Fenway, the markdown isn't quite as large as other parks). Among the best of these is the Sausage Connection, located on Lansdowne Street near Gate E.
The Sausage Connection, of course, has sausages loaded with onions and peppers on their menu. They also make kielbasa, dogs, steak tips and even chicken teriyaki skewers.
This in itself doesn't separate the Sausage Connection from the other vendors like Sausage King or Sausage Guy, which like most of the others are perfectly fine purveyors of ballpark grub in their own right. But the Sausage Connection goes the extra mile for spice aficionados like myself, with its Dr. Pepper hot sauces, including a popular one called "Inner Beauty" – which is very good, and very hot.
If you check out the Sausage Connection, you'll not only get a deal on a good sandwich, you can tell people you know what Inner Beauty really is.
And if you want the full lowdown on Fenway Park food, from lobster rolls to Monster dogs, get a load of this!
More About Fenway Park:
Visiting Fenway Park – Five Tips For Newbies
How To Get Cheap(er) Red Sox Tickets
Can You Bring Food Into Fenway Park?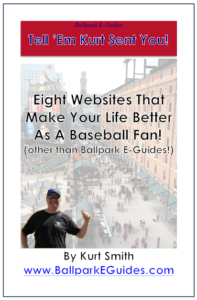 FREE eBook for traveling baseball fans! (That would be you.)

Do you love to visit ballparks and see live baseball? Subscribe to the Ballpark E-Guides e-mail newsletter today, and fill your scorecard with useful and entertaining info about your favorite ballparks, money-saving "tips of the week" for frugal fans, and of course, specials on the incredibly informative Ballpark E-Guides!
You'll also score this eBook, listing some of Kurt's favorite sites for traveling baseball fans, absolutely free of charge…just for stepping up to the plate and subscribing.
Get on base without swinging the bat…sign up today!