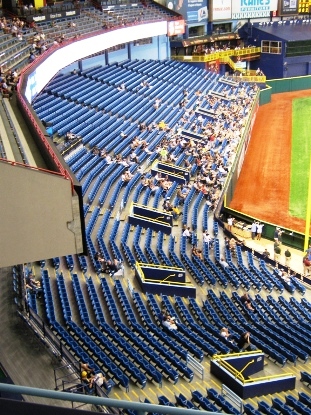 For a baseball venue that ranks near the bottom of most fans' lists of go-to venues, Tropicana Field in Tampa Bay does have some things going for it.
Like Florida weather, for one. Most Florida residents can vouch for the occasional need for indoor baseball. Summers are often unbearably hot and humid, and most days see a thunderstorm or two that even the hardiest of fans wouldn't want to sit through. In Florida in July, going into an air-conditioned dome isn't the worst of experiences.
There's also the ticket prices, which are among the cheapest in baseball. The Rays, you see, have trouble getting people to the ballpark in the best of times, partly because of the venue but also because of the difficulty of traffic leaving Tampa in rush hour. Fans can take a family of four to Tropicana Field for a ballgame much more cheaply than to a day at Disneyworld.
Speaking of families, it's pretty family-friendly in other ways too. Tropicana Field's concourses are decorated with fascinating comic-book style stories of baseball history, there are tons of interactive games for the kids, and there's even a rays tank in right center field where fans can feed and touch the slimy cownose rays.
It's really conducive to bringing your friends too…party areas right next to the bullpens, affordable seats in the upper left field corner, and a newly millennial friendly open area in center field with bars serving that famous Blue Storm margarita. Forget that you're indoors and know that you can still have a fun time at a ballgame, and do it for a lot less money.
Sure, it's not a classic like Wrigley or Fenway and it's not even modern and retractable like Miller Park or Marlins Park. Take advantage of that and grab your cowbell for some inexpensive and often competitive baseball.