Parking Near Rogers Centre – Three "Green P" Spots
Posted by Kurt Smith
I highly recommend against driving and parking near Rogers Centre for Blue Jays games. If you don't have to, don't. But if you must, try using one of the "Green P" lots.
The Green P lots in Toronto, including the ones for parking near Rogers Centre, are owned by the city and as such offer better rates than most. As far as I can tell, none of them charge "event" rates. Here are my top three picks for a night at the ballpark:
Green P Lot #1) 40 York Street. I'll probably get some grief for sharing this favorite spot of fans, but it's probably the best deal that you'll find for parking near Rogers Centre. It's not only cheaper, but the event rate kicks in at 5:00, unlike 6:00 for most lots, so you don't have to time your arrival so much. It's a convenient spot too, especially coming from the east.
(continued below)
Own the Ultimate Insider Fan's Guide to Rogers Centre TODAY…
for just $4.99!

Click the image to learn more!

Green P Lot #2) 10 Portland Street. The night rate starts at 6:00 PM for this one, but it's still fairly convenient at about a half mile from the ballpark, for a ten minute walk, and this one offers a relatively easy out going westbound.
Green P Lot #3) 2 Church Street. If you can't score a spot at 40 York, this one isn't bad coming from the east. It's got over 2,000 spaces and has cheap nightly rates, including a Saturday special of $1/hour for the first two hours. So on Saturday especially you can arrive plenty early for a good spot and still pay a small fee to park for the evening.
One caution about the 40 York and 2 Church Street lots: these are both close to the Air Canada Centre, home of both the Maple Leafs and Raptors. I strongly recommend checking first to see if there is an event there before going…if there is, get there very early or use public transit.
There are other good options for parking near Rogers Centre, but I would advise that you try Green P first, especially if you can walk a little bit.
Incidentally, if you want to know the best way to get to Rogers Centre for every situation, try consulting this handy little guide.
More About Rogers Centre:
Visiting Rogers Centre – Five Tips For Newbies
The Best Way To Get To Rogers Centre
Rogers Centre Food: Three Things To Try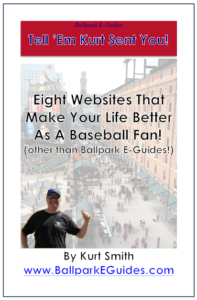 FREE eBook for traveling baseball fans! (That would be you.)

Do you love to visit ballparks and see live baseball? Subscribe to the Ballpark E-Guides e-mail newsletter today, and fill your scorecard with useful and entertaining info about your favorite ballparks, money-saving "tips of the week" for frugal fans, and of course, specials on the incredibly informative Ballpark E-Guides!
You'll also score this eBook, listing some of Kurt's favorite sites for traveling baseball fans, absolutely free of charge…just for stepping up to the plate and subscribing.
Get on base without swinging the bat…sign up today!
Want to save money on baseball tickets, parking and everything else?
If you go to baseball games, you're going to spend money…on tickets, parking, food and souvenirs, not to mention hotels and travel expenses if you're going on a baseball road trip.
I'm here to help…check out my Fan Resources page, where I share some of my favorite recommendations for buying tickets, booking baseball parking and saving on travel expenses.
Legal bit: My Fan Resources page contains affiliate links, so you can support this great website while making smart baseball decisions!