Get To Nationals Park: Avoid Ballpark Parking Fees
Posted by Kurt Smith
There are plenty of generally easy ways to get to Nationals Park; you can drive and park of course, but the traffic is rough and parking rates are Fenway-level, so here are a couple of ways to avoid both.
Get To Nationals Park, Tip #1: Use The Metro. The D.C. Metrorail system is one of the most highly regarded in the country. The trains are clean and comfortable, service is efficient and frequent, and the system covers most anything worth reaching in D.C. proper. If you're staying in D.C. or live there, it should not be difficult at all to get anywhere in two train rides, and transfers (most commonly at L'Enfant Plaza Station) are free.
Metrorail does something I wish more big-city transit systems would do (are you listening, SEPTA?)—they have signs at the tracks informing you how long the wait for the next train is.
Even from outside the city it's not hard to find a park-and-ride Metro station. Nearly all of the stations close to the I-495 beltway are park-and-rides, where you can park inexpensively and for free on weekends. There are some you might want to avoid for different reasons, but the majority of them are easy in and out.
Nationals Park is just steps away from the Navy Yard Station on the Metro's green line. There are two entrances/exits to the station; coming from the train there are signs clearly showing the way. It's so idiot-proof even a congressman could use it.
Upon emerging from the Navy Yard Station, Nationals Park's impressive center field entrance is immediately in view—you can see the seats inside the open-air facility—and you pass by numerous food vendors on Half Street hawking hotdogs, water, peanuts and any other snack that you can bring into the ballpark.
(continued below)
Own the Ultimate Insider Fan's Guide to Nationals Park TODAY…
for just $4.99!

Click the image to learn more!

As said, it isn't terribly difficult to drive to Nationals Park, and there is a fair amount of parking. But it is still driving in the city, and not only might you get frustrated with city traffic, but you will pay a nice chunk of change to park anywhere that is less than a mile walk to the park. Coming from a park-and-ride or from another station in the city, you're spared all of that.
And the train station platforms are pretty cool looking too.
Get To Nationals Park, Tip #2: The Ballpark Bus. The Ballpark Bus was hatched by one Brian Bowman, a Nationals fan who doesn't live close enough to a WMATA Metro station to make taking the train to get to Nationals Park convenient, despite the ease of use for most D.C.-area residents.
Parking at Nats Park is expensive, and driving in D.C. isn't much fun either. So rather than complain to the Metro people or the Nationals, Bowman came up with his own solution for Nats fans that share his dilemma.
The Ballpark Bus runs from Ashburn and Reston, two areas west of the District that are not covered by the Metro's tentacles. Bowman worked out deals with local taverns and restaurants for the pickup areas, and some of these establishments will offer food specials with the ride…winners all around.
It's affordable too…cheaper than driving and especially parking. Just reserve a spot ahead of time, and if the demand is high enough the bus will roll; and if not, you won't be charged.
What I love about the Ballpark Bus is that it's a private enterprise—"mass transit on demand" as they call it. I understand that cities require taxpayer-funded ways for people to get to the ballpark and I'm not knocking it—especially in Washington, where local taxpayers footed the entire bill for the place. The city has to recoup its investment and no one will go if it's too difficult to get there. But the Ballpark Bus is an independent solution, to a problem that many Nats fans still have.
And of course, putting it in the Nationals Park E-Guide makes me look smart…
Check it out here: www.ballparkbus.com. (Logo courtesy of Ballpark Bus.)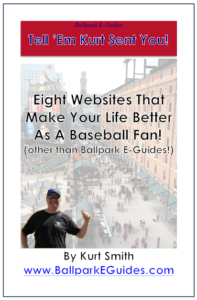 FREE eBook for traveling baseball fans! (That would be you.)

Do you love to visit ballparks and see live baseball? Subscribe to the Ballpark E-Guides e-mail newsletter today, and fill your scorecard with useful and entertaining info about your favorite ballparks, money-saving "tips of the week" for frugal fans, and of course, specials on the incredibly informative Ballpark E-Guides!
You'll also score this eBook, listing some of Kurt's favorite sites for traveling baseball fans, absolutely free of charge…just for stepping up to the plate and subscribing.
Get on base without swinging the bat…sign up today!