Three Tips For Visiting Canada To See Baseball
Posted by Kurt Smith
If you're headed to Toronto for a Blue Jays game, you should probably be aware of some tips for visiting Canada. A quick glance at a road atlas reveals that unlike any other MLB city, Toronto isn't in the United States.
That's a cool thing, of course, because it makes you the ballpark roadtripper an international traveler! But it also means that you'll be entering a foreign country, maybe for the first time, and if you do there are definitely some important things to know.
Here are three that I consider pretty important:
Tips For Visiting Canada, #1: Have a passport. Yes, you'll need one of these even just driving your car across the border into Canada, and you'll have to go through a customs service if you're flying so they want to know you have permission to enter. This didn't used to be the case, but it's something you need to know now.
Sometimes there are long delays at the border because someone forgot something pretty important. Don't be one of them.
(continued below)
Own the Ultimate Insider Fan's Guide to Rogers Centre TODAY…
for just $4.99!

Click the image to learn more!

Tips For Visiting Canada, #2: Be sure you can use your phone. I learned the hard way that my phone service didn't cover me in Canada…I had to send e-mails to my wife from the hotel and tell her to call me there. Eventually I got myself a phone card which helped, but it will save you a big headache if you know beforehand if you can use your phone there.
And you'll be surprised at how much you miss it.
Tips For Visiting Canada, #3: Be aware of money transactions. Get your money exchanged for Canadian money at a bank or at your hotel; do not use the exchange centers that take a big cut of the cash. Also, check your credit card company and see if they add foreign transaction fees, and if they do, use cash as much as you can because those fees add up.
Remember that you can use American money at most establishments, but you will get Canadian money in return, so as you're leaving don't pay for your cup of coffee at Tim Horton's with an American twenty. It's a headache turning Canadian dollars back into U.S. dollars, take it from me.
That's just three tips for visiting Canada for a Jays game…there are some other important things too, though. Think ahead and get some help in advance with one of these.
More About Rogers Centre:
Visiting Rogers Centre – Five Tips For Newbies
The Best Way To Get To Rogers Centre
Rogers Centre Food: Three Things To Try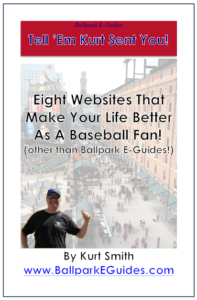 FREE eBook for traveling baseball fans! (That would be you.)

Do you love to visit ballparks and see live baseball? Subscribe to the Ballpark E-Guides e-mail newsletter today, and fill your scorecard with useful and entertaining info about your favorite ballparks, money-saving "tips of the week" for frugal fans, and of course, specials on the incredibly informative Ballpark E-Guides!
You'll also score this eBook, listing some of Kurt's favorite sites for traveling baseball fans, absolutely free of charge…just for stepping up to the plate and subscribing.
Get on base without swinging the bat…sign up today!