Rogers Centre Food: Three Things To Try
Posted by Kurt Smith
The Rogers Centre food situation has been improving, and today the Blue Jays' home features a fairly impressive menu, even if it's not quite as varied and full of gourmet options as some ballparks.
It's all overpriced of course, and perhaps I'd say even more so than at most ballparks, since the Canadian exchange rate isn't as favorable to Americans as it once was. But after doing a walkthrough, I found three items that are certainly worth trying if you're wondering what to eat at Rogers Centre:
Rogers Centre Food, Tip #1: The Garrison Creek Home Run Footlong Dog. OK, just call it a Home Run Dog or Garrison Footlong if you don't want to say all that when you're debating what to get with your date. But this puppy is one nicely dressed dog, different from any I've seen at a ballpark.
It's a footlong dog obviously (and come to think of it, why isn't it a two-decimeter dog or whatever the metric version of it would be?), but it's thicker than most ballpark footlongs…and it's adorned with maple flavored baked beans, cheddar and bacon bits.
You could just put bacon bits in maple baked beans and I'd be happy, but add that big dog to it and I might even pay to see a losing team.
(continued below)
Own the Ultimate Insider Fan's Guide to Rogers Centre TODAY…
for just $4.99!

Click the image to learn more!

Rogers Centre Food, Tip #2: Sweet Potato Fries. At the Gourmet Frites stands (and at other stands around the ballpark), you can find appetizing looking sweet potato fries. Judging by the amount of people I saw carrying them around, they're a pretty popular item here.
The sweet potato fries come with a chipotle style dipping sauce, so it's not something you can walk around eating, but it isn't healthy to walk while eating anyway. And I'm guessing that people who choose sweet potato fries are looking for a healthier choice over just plain old potato fries.
Rogers Centre Food, Tip #3: The Bases Loaded Nachos. Or the nachos at the Muddy York Market, if you're interested in more choices of things to pile onto your chips. Either way, if you're a nacho buff, Rogers Centre definitely has you covered.
At the Budweiser King Club, with its own bar and carvery, you can get the Bases Loaded Nachos…with beef brisket (!), BBQ sauce, jalapenos, caramelized onions, salsa, pepper-infused sour cream, and 3-bean chili. I don't know what pepper-infused sour cream means exactly, but yes, I'll have a double helping on my chips.
There are plenty of other choices of Rogers Centre food; I mean no disrespect to Liberty Village sausage poutine or the multitude of choices at the Muddy York Market…just be prepared with one of these!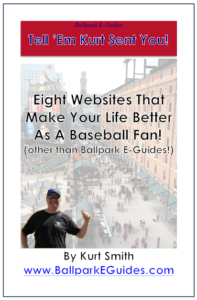 FREE eBook for traveling baseball fans! (That would be you.)

Do you love to visit ballparks and see live baseball? Subscribe to the Ballpark E-Guides e-mail newsletter today, and fill your scorecard with useful and entertaining info about your favorite ballparks, money-saving "tips of the week" for frugal fans, and of course, specials on the incredibly informative Ballpark E-Guides!
You'll also score this eBook, listing some of Kurt's favorite sites for traveling baseball fans, absolutely free of charge…just for stepping up to the plate and subscribing.
Get on base without swinging the bat…sign up today!