More Food At Rogers Centre: Street Meat
Posted by Kurt Smith
There's no shortage of a selection of food at Rogers Centre, but as in any ballpark, it's expensive. Fortunately, you have some alternatives just outside.
Some ballparks have a better outside vendor scene than others. Fenway Park and Wrigley Field are among the best, but so are Yankee Stadium and Camden Yards…which would suggest that a good choice of outside vendors is actually more due to a ballpark's location than its age.
Being in the heart of downtown Toronto, Rogers Centre fits into this category, but it's not quite the same sort of activity. Outside, the food carts selling hot dogs and sausages are plentiful largely because the Blue Jays allow them on the grounds. Whether or not they're taking a cut I don't know, but I would believe it. Torontonians refer to the vendors' wares as "street meat", an appropriate appellation.
(continued below)
Own the Ultimate Insider Fan's Guide to Rogers Centre TODAY…
for just $4.99!

Click the image to learn more!

Food prices being what they are in ballparks, lots of fans in the big city ballparks especially take to the outside vendors for a dog or sausage at often less than half the price.
In Toronto, Rogers Centre is surrounded by such carts. Many of them are operated by Shopsy's, a popular local deli, or Yves, a manufacturer of veggie dogs and burgers. But some of them are operated by local Joes just making a buck.
The carts on the Rogers Centre grounds don't differ much in their offerings: they mostly sell large dogs, sausages, and veggie versions of both.
The neat thing is the condiment choices; you can pile anything from chopped onions, hot peppers, pickles, sauerkraut, even bacon bits if you're lucky. The dogs are also hefty, making them well worth the price.
While the carts on the grounds of the stadium certainly can handle your hot dog or even your vegetarian "meat" fix, there are some extra options if you're willing to venture onto Front Street north of the ballpark: during my visit, there was a Don Juan's truck, whose fries are very popular, and I also spotted a truck called Crazy Fries, which sells burgers along with dogs and the ever-popular poutine (fries with gravy and cheese).
And just after I left, a popular food truck called Stuft has parked on Front Street; according to the "Toronto Food Trucks" website, Stuft is famous for sausages stuffed with mushrooms or Jamaican jerk pork. They have their own brand of sauces, too. And you thought you didn't like baseball.
It's not that the inside food at Rogers Centre is awful by any means—they have good-sized dogs, popular sweet potato fries and an impressive selection of nachos among many other things. But as always, the stuff is quite overpriced inside, and maybe it's just me, but it seemed even more so at Rogers.
So if you not only want to save a buck but get a tasty hunk of ballpark food, talk a walk around and go for the street meat.
But there's a whole lot of food at Rogers Centre, like footlong dogs, crazy nachos and loaded poutine! You can find out about all of that with this handy little guide.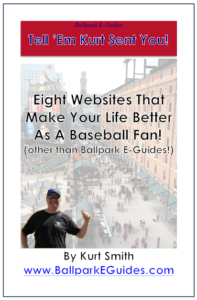 FREE eBook for traveling baseball fans! (That would be you.)

Do you love to visit ballparks and see live baseball? Subscribe to the Ballpark E-Guides e-mail newsletter today, and fill your scorecard with useful and entertaining info about your favorite ballparks, money-saving "tips of the week" for frugal fans, and of course, specials on the incredibly informative Ballpark E-Guides!
You'll also score this eBook, listing some of Kurt's favorite sites for traveling baseball fans, absolutely free of charge…just for stepping up to the plate and subscribing.
Get on base without swinging the bat…sign up today!