Yankee Stadium Seating: Two Useful Tips
Posted by Kurt Smith
There are, of course, choices all over the economic spectrum on the Yankee Stadium seating chart, and I go over them in detail in the Yankee Stadium E-Guide. But here are just a couple of tips, one good choice and one bad one.
Yankee Stadium Seating Tip #1: Grandstand Behind Home Plate. Now, of course, if money was no object, I'd want to be sitting in those Legends Suite seats behind home plate, which go for upwards of $1,500 a game. Then again, if I had that kind of money to throw around, I'd have Cameron Diaz feeding me popcorn at the Super Bowl.
So here I'm going to say your best deal is the upper level grandstand seats, and the closer you get to home plate the better. Yes, these seats are fairly high up as they are in most ballparks with a level of suites and open concourses, but for some reason it doesn't seem as bad here. Perhaps it's the large crowds that show up for Yankees games despite the prices for the higher level tickets.
The upper level is sectioned into two parts, the 300 Level Terrace and the 400 Level Grandstand. The 300 Level Terrace seats are considerably more expensive and you're not going to feel like you're much closer to the action.
(continued below)
Own the Ultimate Insider Fan's Guide to Yankee Stadium TODAY…
for just $4.99!

Click the image to learn more!

And behind home plate the 300 Level Sections are the "Jim Beam" seats; these include some nice bonuses (like entry into the climate-controlled Jim Beam Club) and can be had for a fairly reasonable price for some games, but they are still a bit more pricey than I like to shell out for a ballgame.
The price of the Grandstand seats decreases as you get past the baselines, but the view gets considerably worse. There aren't too many rows in the 400 Level sections, so it doesn't get too high. The frieze will be prominently in your view at the top, which is kind of cool to look at. Finally, there is a roof over the higher rows of seats, which is nice for shade and for rainy days (although I usually get out of high areas during a storm).
The Grandstand seats behind home plate are my first choice for Yankee Stadium seating on a limited budget, which is more limiting at Yankee Stadium than it is at most ballparks.
Yankee Stadium Seating Tip #2: Avoid Terrace Standing Room. Standing room isn't cheap at Yankee Stadium. You can pay $60 and up for a spot that doesn't include an official place to rest your behind. The Yankees do provide countertops and barstool-style chairs in many of the field level standing room areas, and the countertops are actually marked to designate your spot. But all the same, standing room still costs too much.
However, there will be times, such as when a Yankee approaches a big milestone, that standing room will be your only option. There are several levels of standing room areas; should you end up with Terrace Standing Room, you're best off just looking for another place to stand (or, if you're lucky, an empty seat).
Terrace standing room is angled in such a way that you will lose a good portion of the field, and if you're in the wrong spot, that portion will be the infield where much of the action happens. In order to have less of your view blocked, you would have to move to the outer edges of the upper deck, where you will be rather far from the action.
It's as if the Yankees know that no one is going to actually stand in a designated spot in the upper level and will more likely search for an empty seat. Which you can, and so long as you don't try to upgrade too much. But then there's the stadium equivalent of looking over your shoulder; people coming into the stands that could possibly be the rightful owners of your seat, and it isn't the most fun way to enjoy a ballgame.
If you pay more for the lower level standing room, you may well have a barstool to sit on and a counter to place your food and elbows (without regard to the social faux-pas), and so it's not entirely a bad deal especially considering how much the seats in front of you cost. The Yankees do block people from swiping those stools if they don't have specific tickets for them.
So if you don't mind what sounds like a hefty charge for standing room, go for the Field Level SRO tickets. But unless you want to search for a seat to poach in a packed house, avoid Terrace Standing Room. Pick another spot from the Yankee Stadium seating chart. If you need help picking a seat, you should definitely consult this handy little guide.
More About Yankee Stadium:
Visiting Yankee Stadium – Five Tips For Newbies
Yankee Stadium Food: Three Things to Try
Three More Yankee Stadium Tips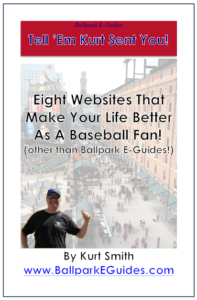 FREE eBook for traveling baseball fans! (That would be you.)

Do you love to visit ballparks and see live baseball? Subscribe to the Ballpark E-Guides e-mail newsletter today, and fill your scorecard with useful and entertaining info about your favorite ballparks, money-saving "tips of the week" for frugal fans, and of course, specials on the incredibly informative Ballpark E-Guides!
You'll also score this eBook, listing some of Kurt's favorite sites for traveling baseball fans, absolutely free of charge…just for stepping up to the plate and subscribing.
Get on base without swinging the bat…sign up today!