Get To Guaranteed Rate Field Via Metra
Posted by Kurt Smith
To get to Guaranteed Rate Field isn't near as challenging as getting to Wrigley, its venerable neighbor to the north. There are a few reasons for this; the White Sox offer more parking, they don't draw as well as the Cubs, and there isn't much else in the area drawing crowds, at least not at the moment.
But this isn't to say that you won't run into your own set of difficulties on the South Side. The Dan Ryan Expressway (I-90/94) in Chicago was recently called one of the worst bottlenecks in America by Some Highway Commission; the Red Line gets packed before games—and people often complain of the odor of urine, although I don't remember it; and the neighborhood, while improved, is not a place where many folks remain after the game, and there isn't much in the way of watering holes to wait out the train crowds.
But as of 2011 the nice folks at Metrarail, one of the public transportation arms of Chicago, have introduced a new remedy to all of this.
(continued below)
Own the Ultimate Insider Fan's Guide to Guaranteed Rate Field TODAY…
for just $4.99!

Click the image to learn more!

Metra is the commuter rail service serving the metropolitan Chicago area. Train lines run from towns as remote as Kenosha, Wisconsin and Manhattan, Illinois. Trains run frequently during rush hours but about an hourly basis at other times. It is a highly regarded service for commuters, with quiet and efficient cars. It can be used for getting to Sox or Cubs games, but from most routes it involves a transfer to the CTA Red Line downtown, and sometimes that includes a walk of a few blocks.
In 2010 Metra feverishly worked on a station located at 35th and LaSalle Streets, which requires a very short walk to get to Guaranteed Rate Field. The new station is called the "Lou Jones/Bronzeville Station" named after Lou Jones/Bronzeville (snort), a state majority leader who passed in 2006.
The new station is part of the Rock Island Line, which has its suburban terminus about 40 miles southwest of Chicago in Joliet. Along the way are several park-and-ride stations. The daily fee for parking is usually just a buck or two, and it's free to park on weekends—a much better deal than you'll get anywhere close to the ballpark. Depending on how far away you start, the fare for the train one way can be between $2.25 and $7.75.
By yourself or with maybe one other person, it's probably cheaper than gas and parking, not to mention the saved aggravation of driving in downtown Chicago, which can sometimes be irritating for a Sox game. Far better to enjoy a beer on the train.
There are, of course, many other cool, cheap and fun ways to get to Guaranteed Rate…like the venerable Red Line, the Pace Express Bus, the Reggies Rock Bus, or just driving you car. One of these will help you choose the best route.
More About Guaranteed Rate Field:
Visiting Guaranteed Rate Field – Five Tips For Newbies
Guaranteed Rate Field Seating – An Important Tip
Three Foods To Try at Guaranteed Rate Field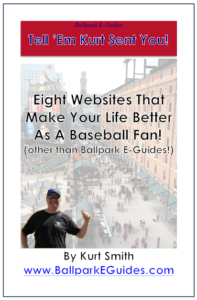 FREE eBook for traveling baseball fans! (That would be you.)

Do you love to visit ballparks and see live baseball? Subscribe to the Ballpark E-Guides e-mail newsletter today, and fill your scorecard with useful and entertaining info about your favorite ballparks, money-saving "tips of the week" for frugal fans, and of course, specials on the incredibly informative Ballpark E-Guides!
You'll also score this eBook, listing some of Kurt's favorite sites for traveling baseball fans, absolutely free of charge…just for stepping up to the plate and subscribing.
Get on base without swinging the bat…sign up today!