Three Camden Yards Seating Tips
Posted by Kurt Smith
If you're on a budget and looking for a great seat at Oriole Park at Camden Yards, I have three Camden Yards seating tips for you…all part of this amazing guide to Baltimore's ballpark:
Camden Yards Seating Tip #1) Upper Level Behind Home Plate
If you're looking for a cheap Orioles ticket and a great seat, go for the upper level at Camden Yards.
One of the nice things the designers of Camden Yards insisted on was not having open concourses, which in my mind is among the more overrated features of new ballparks. Okay, maybe it's nice to stand at a counter and eat your sandwich while watching the action. But I spend much less time doing that than sitting in my seat.
With no open concourses and just one level of suites, the upper level at Camden Yards is closer to the action than in most ballparks—especially the newer ones. The upper seats behind home plate are like those at Wrigley Field…and cheaper to boot.
The other nice thing about these seats is the stunning view of the Baltimore skyline—which has been marred somewhat by the Hilton blocking the view of the Bromo-Seltzer Tower, but is still picturesque nonetheless. Lower level seats have don't have quite the view of downtown Baltimore.
I'm not saying that you can't get a lower level seat for a great deal; you can. I'm only suggesting that if you want to go really cheap, you can still get a great seat at Oriole Park.
(continued below)
Are You Spending $183.34* For One Orioles Game?
*Average cost for a family of four in 2016.

You can do better. Click the image to find out how.
Camden Yards Seating Tip #2) Lower Rows of Terrace Box Seats
The Terrace Box sections down the foul lines at Camden Yards, most notably the odd-numbered sections from 11-17 and 55-65, are a great deal for the price…so long as you're in a low enough row.
The reason for the lowered cost is that the upper rows down the line are covered by an overhang, and you likely won't be able to see the scoreboard or have a nice panoramic view of the ballpark. Such seats are nice on a rainy or hot day, but you won't feel so much like you're a part of the whole ballpark atmosphere.
But if you can find a low enough row in these sections, say Row 4 or lower, it's a very nice seat at a great price. You should still be able to see everything, and you'll be closer to the action than in the upper level.
Camden Yards Seating Tip #3) The Roof Deck. OK, it technically isn't seating, unless you get one of the barstool seats in the front. But the relatively new Roof Deck has some things going for it.
The Roof Deck is in straightaway center field, above the batter's eye. It takes a flight of steps to get there. On the Roof Deck is a full bar that is covered from the elements, making it easy to escape the sun or rain…and escaping the July sun in Baltimore can be a very welcome thing.
There are two rows of barstools in the front of the Deck with counters, and the view isn't bad for seats so far away. There are also lounge style seats and stools at the bar, but there's no view of the game there.
The barstools are reserved seating now, and they're popular so you have to order them ahead of time. But anyone with a ticket can access the rest of the Roof Deck, and it's a cool hangout spot.
And it's just a flight of stairs away from some excellent food options on Eutaw Street.
That's just three seating areas, but there's plenty to know about the rest of the seating at Oriole Park. Click here for a helpful guide to the best seats at Camden Yards.
More about Oriole Park at Camden Yards:
Visiting Camden Yards – Five Tips For Newbies
Camden Yards Parking – Three Cheap Spots
Three More Camden Yards Food Options (Crab Stuff!)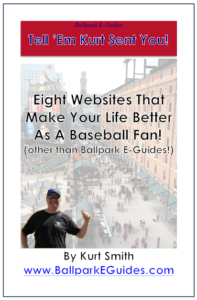 FREE eBook for traveling baseball fans! (That would be you.)

Do you love to visit ballparks and see live baseball? Subscribe to the Ballpark E-Guides e-mail newsletter today, and fill your scorecard with useful and entertaining info about your favorite ballparks, money-saving "tips of the week" for frugal fans, and of course, specials on the incredibly informative Ballpark E-Guides!
You'll also score this eBook, listing some of Kurt's favorite sites for traveling baseball fans, absolutely free of charge…just for stepping up to the plate and subscribing.
Get on base without swinging the bat…sign up today!
Save
Save