How to Get to Camden Yards – Two Tips
Posted by Kurt Smith
When you're figuring out how to get to Camden Yards, much of it depends on where you're coming from…it's accessible from two major highways. There are some things to be aware of though, and here I share some suggestions…one thing to do and one thing not to do.
How to Get to Camden Yards Tip #1 – Public Garages on Eutaw Street

There are easier parking lots to reach at Camden Yards than the public garages on Eutaw Street north of the ballpark. There are cheaper ones that I talk about in the Oriole Park E-Guide. There are easier to exit lots, and while I hesitate to say it, there are probably safer ones too.
But the reason I sometimes go for a public garage north of the warehouse on Eutaw Street is the view. No, not the view of the garage. The view of Oriole Park at Camden Yards, from north of the warehouse, the right field seats and the back of the scoreboard with the big Coca-Cola sign.
I honestly wish I could put my finger on what makes it so special, but the best I can do is tell you that when you're in the middle of a city surrounded by concrete, bricks and big buildings, and you see the outside of the city's ballpark, you feel as though this is the way it has always been. You feel like even if you did have criticisms of Camden Yards, at the very least the ballpark is exactly where it is supposed to be. Seeing a ballpark come into view both softens and brightens a downtown metropolis.
And there are, of course, vendors selling dogs, sausages, peanuts, water and T-shirts for much cheaper than inside…although they aren't as prominent in that path as they were before the Hilton. Boo.
There are easier entrances and exits, and cheaper spots, but a Eutaw garage is worth the occasional trouble for a beautiful approach to the ballpark.
(continued below)
Are You Spending $183.34* For One Orioles Game?
*Average cost for a family of four in 2016.

You can do better. Click the image to find out how.
How to Get to Camden Yards Tip #2 – (before gametime)…Avoid I-83 During Rush Hour!

A good friend of mine lives in Parkville, about a 20-minute drive southbound on I-83 to the Yard. We got together while I was in town on a fact-finding mission, and we toured Camden Yards and had lunch near his place before I took off for the game.
Here's an absolutely free tip on how to get to Camden Yards…or more correctly, how NOT to get there: if you are going to head into Baltimore during rush hour, do not take I-83 southbound all the way in, to the corner East Fayette and South President Streets.
For those unfamiliar with downtown Baltimore, I-83 ends just short of the Inner Harbor and east of Camden Yards, which just happen to be the two biggest tourist attractions in Baltimore. At around 4:45 PM when I was there, there was rush hour traffic, Inner Harbor traffic, and early ballgame traffic.
All in a city where red light duration could conceivably be measured in eons. I could have walked from the corner where I-83 ends to the lot where I eventually parked on Eutaw Street faster than I drove there. I probably could have thrown in a tour of the Jazz Institute.
The last six exits of southbound I-83 are all "Camden Yards" exits according to the signage (and presumably street signs would help you find your way to "Birdland"), so if anything besides using I-83 is too far out of your way, you could try one of the earlier ones. I expect anything not near the Inner Harbor—like maybe using exit 2 and turning right onto Pleasant Street, or exit 3, right onto Madison Avenue and then left onto Eutaw—would work better than what I tried.
But it's still downtown city traffic, and during rush hour it's going to be bad. So unless you're a seasoned veteran who knows the back streets of downtown Baltimore and have a concrete plan with a GPS so that at least you can take an alternate route, avoid using I-83 during rush hour.
I understand not wanting to give "the man" $4 for the Harbor Tunnel on I-95, but you'll spend much more than that in gas. And in unbridled aggravation wondering how many innings you'll miss.
There you go – Ballpark E-Guides takes one for the team. There's a whole lot more to know about how to get to Camden Yards, but now you know what not to do!
More about Oriole Park at Camden Yards:
Visiting Camden Yards – Five Tips For Newbies
Camden Yards Parking – Three Cheap Spots
Three More Camden Yards Food Options (Crab Stuff!)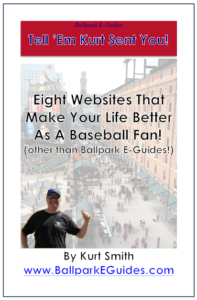 FREE PDF for traveling baseball fans! (That would be you.)

Do you love to visit ballparks and see live baseball? Subscribe to the Ballpark E-Guides e-mail newsletter today, and fill your scorecard with useful and entertaining info about your favorite ballparks, money-saving "tips of the week" for frugal fans, and of course, specials on the incredibly informative Ballpark E-Guides!
You'll also score this PDF, listing some of Kurt's favorite sites for traveling baseball fans, absolutely free of charge…just for stepping up to the plate and subscribing.
Get on base without swinging the bat…sign up today!
Save
Save
Save