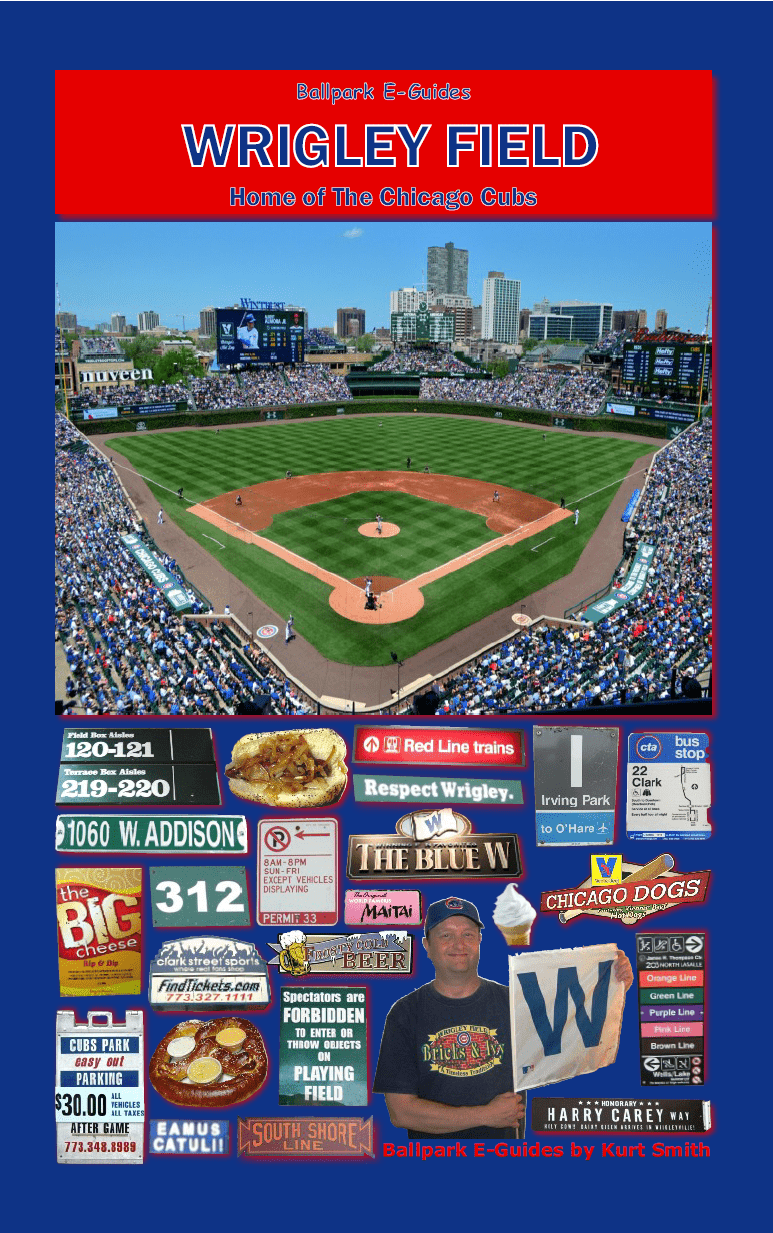 So you want to save money at Wrigley Field? Of course you do. With Cubs tickets and parking prices being so high, and ballpark food prices being what they are, you want to know how to get the most for your Wrigley dollar, right?
I'm here to help. Here are some ways to score cheaper Cubs tickets, use the CTA to save money, and places where you can get food to bring in. Or find the absolute best deal on parking.
But if you want a complete guide to going to Cubs games without striking out your wallet, the information-packed, colorfully illustrated Wrigley Field E-Guide is for you.
JerseyMan staff writer Kurt Smith has written the ultimate fan's guide to the Friendly Confines – with loads of tips and tricks to help you save cash for souvenirs and a post-game dinner in Wrigleyville. From tickets to transportation to food, there are plenty of ways to save money at Wrigley Field…and this handy, nice-sized booklet will tell you all about them!
"I must recommend Smith's excellent, very detailed guide to Wrigley Field as an indispensable tool for navigating the ticket-buying process (which can be very confusing at Wrigley Field), the ballpark and its home city…besides being incredibly informative, it's fun to peruse and read."
– Floyd Sullivan, Chicago Now
Once you read this comprehensive fan's guide to Wrigley Field, you'll know how to…
Buy Cubs tickets. The Wrigley Field E-Guide lists all of the many ways to get Cubs tickets, from the team website to scalpers and agencies, so you can shop around and take advantage of great deals. Not to mention being able to get a great seat (with an unobstructed view of course)…
Get to the ballpark. There are lots of great, cheap transit options for getting to Wrigley – here are just a few! From avoiding gas-guzzling traffic to your multiple train and bus options, the Wrigley Field E-Guide covers it all!
What to eat at Wrigley. Sure, ballpark food is always pricey, but the Wrigley Field E-Guide even features tips to save money on grub at the game! AND…you'll know all about the food options at Wrigley, so you don't waste your hard-earned cash on something you didn't want.
All of these great "Tightwad Tips" to help you save money at Wrigley Field…and that's not all! The Wrigley Field E-Guide will help you pick the best seat for your taste, avoid congestion in traffic or on a train, even what to know about the Wrigleyville neighborhood…and so much more.
And it's all here for the amazingly low price of…get this…just $4.99!
Or you can order the beautifully illustrated print edition for just $7.99 plus shipping, and get the eBook at no extra charge. Makes a great gift for a traveling baseball fan!
Score a big blue "W" for your wallet…order a Wrigley Field E-Guide today!
"From soup to nuts and everything in between, the Wrigley Field E-Guide is filled with tales, tidbits, and talking points about the fabled Chicago ball yard…spend some time here and you will really be ready to partake of the pleasures of Wrigley armed with all kinds of tips and knowledge."
– Harvey Frommer, author of Remembering Fenway Park

Save
Save
Save
Save
Save
Save
Save