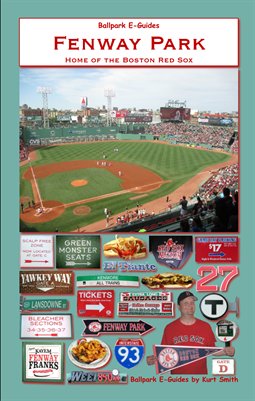 If you're looking to go to a Red Sox game on a budget, I'm happy to help you score cheap Red Sox tickets and find an affordable parking spot. But if you really want to know how to save money at Fenway Park, the Fenway Park E-Guide is definitely for you.
JerseyMan Magazine staff writer Kurt Smith has dug deep into the Fenway experience – from getting Red Sox tickets to picking a great seat to the great food options – and he's picked up a Green Monster-sized bunch of Tightwad Tips for stretching your Fenway dollar!
Here are just a few of the many ways that the info-packed Fenway Park E-Guide will help you save money at Fenway Park:
Getting Red Sox tickets. You'll find out about all sorts of buying options – from the Red Sox website, game day sales, third party options like StubHub and Ace, and specials that the team and other outlets offer. And you'll even know which seats…and standing room spots…offer the most bang for the Fenway buck…
Getting to the ballpark. No, you don't have to spend $50 or more to park at Fenway…in fact there are even some free spots not very far away. Or you can use much cheaper public transit and avoid crowds…the Fenway Park E-Guide shares all the details for getting there by car, train or even by bicycle!
Ballpark food. Sure the food inside any ballpark is expensive, and there often isn't much you can do about that. But you can find great deals not just on sausage and steak tip sandwiches outside, but also nearby joints where you can grab some tasty grub to bring in on the cheap. And the Fenway Park E-Guide tells you how.
"Jammed packed with all the info a rabid Red Sox fan needs when heading to the ballpark. For the cost, it's a bargain at twice the price. Check it out, and you will have all you need to make the most of your pilgrimage to the Holy Land…"
– Christine E., Boston Red Thoughts
All of those helpful and insightful Tightwad Tips to save money at Fenway Park…they're all here, in the Fenway Park E-Guide! Not to mention lots of other useful info, like how to avoid obstructed views, what to know about getting there, and the available food both inside and outside of Fenway Park.
All of this for…are you ready for this insanely low price? Just $4.99.
Or get the nicely illustrated and compact print edition for just $7.99 plus shipping…and get the eBook at no extra charge!
Don't wait to find out how to get your money's worth and then some the next time you visit America's oldest ballpark…order the Fenway Park E-Guide today!
"I recently read the Fenway Park E-Guide and could not believe how much I learned. Kurt goes into great detail on where to park, where to buy tickets, best views in the park, how to get to the game, and best places to eat inside and outside of the park."
– Scott Chamberlain, Woo Chamberlain

"Smith has done a great job providing baseball fans with inside tips that only grizzled veterans of Fenway Park know…Next time you go to Fenway Park, why not arm yourself with some deep insight and take advantage of everything the park and its surroundings have to offer? [It's] cheaper than a Miller Lite at the game and this guide will show you tons of stuff!"
– Darryl Johnston, Fire Brand of the AL
Save