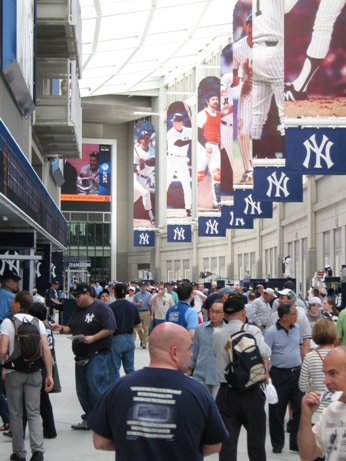 Are you searching for a truly perfect gift for a Yankees fan in your life?
If you are, consider this…what do you always see at Yankees games in other ballparks? That's right…lots of Yankees fans.
So when looking for that ideal gift for a Yankees fan, how about a booklet full of cool insider tips and knowledge for a ballpark they'd like to visit?
JerseyMan staff writer Kurt Smith's Ballpark E-Guides are complete insider fan's guides to MLB ballparks….including Fenway in Boston, Camden Yards in Baltimore, even Citi Field in New York, just across town.
When the Yankees fan in your life is planning a visit to another ballpark, Ballpark E-Guides will help them with…
…Saving Money On Tickets. From the team website to game day box office sales, Ballpark E-Guides show how you can land great seats…with valuable "Tightwad Tips" to help fans save big on tickets…
…Picking A Perfect Seat. From the luxury suites to the bleachers, a Ballpark E-Guide gives a Yankees fan the full lowdown on seating…including avoiding obstructed views, staying out of the sun, and where visitors might be less welcome…
…Getting To The Ballpark. Ballpark E-Guides are filled with great tips for getting there…from finding affordable parking to using the best public transit routes, even by ferry, bicycle, or a pedicab…a Yankees fan will even enjoy the experience of getting to the game!
…Choosing Ballpark Food. Every ballpark has a full menu these days…unusual hot dogs, burgers, fries, nachos and some type of BBQ stand. Ballpark E-Guides covers them all…and helps fans pick out a great local foodie favorite ahead of time…
All that info and much more is all here, and it's what makes a Ballpark E-Guide a perfect gift for a Yankees fan planning a trip. Best of all, you can order one for the incredible low price of $7.99 plus shipping!
That's not all…that price includes the easy-to-navigate bookmarked PDF, at no extra charge (you can keep that!).
Help your favorite Yankees fan make their next visit to Boston, Baltimore or even Citizens Bank Park in Philly (a place the Yankees will visit in 2018!) an affordable and memorable experience. Order a Ballpark E-Guide today!
Your Complete Insider's Guides to 15 Major League Ballparks!
American League East Ballparks
National League East Ballparks
American League Central Ballparks
National League Central Ballparks
Save
Save
Save
Save
Save
Save
Save
Save
Save