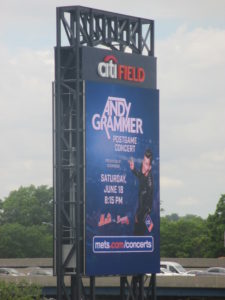 Thanks for visiting the New York Mets Ballpark E-Guides page! We hope that you find out some cool things you didn't know about Citi Field while you're here…and if you do, there's plenty more where that came from in the Citi Field E-Guide!
The New York Mets ballpark pays homage to the history of National League baseball in New York City…not just with a first class Mets Hall of Fame and pictures of Mets greats through the years, but also with the Ebbets Field-inspired design and the spectacular rotunda dedicated to Jackie Robinson, a player whose greatness needs no embellishment. It's not easy to build a ballpark that pays such a superb tribute to baseball history in the same city as Yankee Stadium, but the Mets managed it quite well. And on top of that, the Mets' home features some of the most Amazin' food selections in baseball…from the Shackburger to the Pat LaFrieda sandwich to the Mama's of Corona Italian sub among so much else. If you are a foodie fan, Citi Field is definitely for you.
The next time you're planning to visit the home of Noah Syndergaard and David Wright at the New York Mets ballpark our E-Guide has you covered…we'll tell you how to get cheap Mets tickets, how to find seats at Citi Field that suit your taste and budget, how to get to Citi Field as cheaply and painlessly as possible, and what to eat when visiting the New York Mets' ballpark. You'll learn all sorts of great tips that only veterans of Citi Field know!
Have a look below at some helpful tips for visiting Citi Field…like getting tickets, where to sit, the best way to get there and what to eat. And congrats on being a smarter baseball fan!
Save
Save
Save