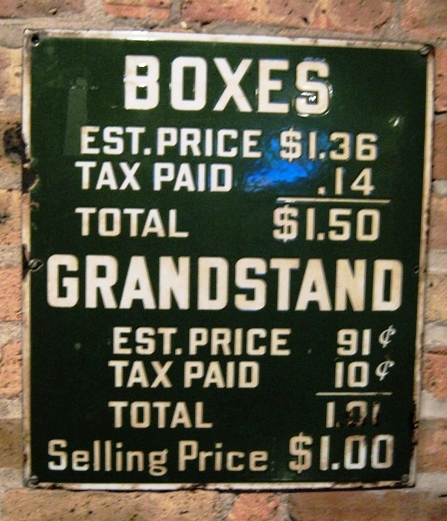 So you're looking for a unique and special gift for a baseball fan in your life? Why not help them enjoy what they love the most…going to the ballpark?
Every baseball fan loves the ballpark…the smell of the grass, the roar of the crowd, the taste of the hot dogs (or BBQ, or nachos, or sushi). Baseball fans especially love to travel to other ballparks too…there's no vacation like a baseball vacation!
That's what makes JerseyMan staff writer Kurt Smith's Ballpark E-Guides the ideal gift for a baseball fan – especially one who loves to see our national pastime in other ballparks. Ballpark E-Guides are 36-40 page booklets filled with everything you need to know about 15 MLB ballparks…including Fenway Park in Boston and Wrigley Field in Chicago!
Once a baseball fan reads a Ballpark E-Guide, they'll know how to…
Saving Money At The Ballpark. From finding great deals on tickets to finding inexpensive and even free parking, the "Tightwad Tips" in each E-Guide will help a fan save money every step of the way!
Getting A Great Seat. Ballpark E-Guides explain the pros and cons of every seating area, from the luxury seats to the bleachers…including how to avoid obstructed views and stay out of the sun…
Getting To The Ballpark. Whether driving or using public transit, a Ballpark E-Guide explains everything a fan needs to know to avoid traffic and high parking costs…including getting there by shuttle, boat or even a bicycle!
Food At The Game. Every Ballpark E-Guide lists what's being sold at all of those food stands, from hot dogs to BBQ sandwiches to nachos, even outside food that you can bring in…
All of this great information about any of 15 homes of baseball…and all for the low price of $7.99 plus shipping! You'll have enough money left over for that team ornament! (Oh…and they make great stocking stuffers too!)
Score a grand slam with the ultimate gift for a baseball fan in your life…order a Ballpark E-Guide today!
American League East Ballparks
National League East Ballparks
American League Central Ballparks
National League Central Ballparks
Save
Save
Save
Save