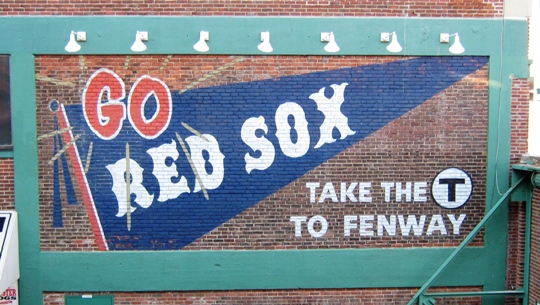 Searching for the perfect gift for a Red Sox fan in your life? If so, there's something you need to know…Red Sox fans LOVE to travel to see their Sox in other ballparks – in places like Yankee Stadium in New York, Camden Yards in Baltimore, or even at Nationals Park in D.C. and Citizens Bank Park in Philly…two places the Red Sox will be visiting in 2018.
JerseyMan staff writer Kurt Smith's Ballpark E-Guides are the perfect companion for traveling Red Sox fans. They are 36-40 page booklets that tell fans everything they need to know about a ballpark!
A Ballpark E-Guide is an ideal gift for a Red Sox fan for many reasons and seasons. Once a Red Sox fan reads a Ballpark E-Guide, they'll know how to:
Save Money at the Ballpark. Whether it's getting the best deal on tickets, finding that cheap or even free parking spot, or taking advantage of team specials, a Ballpark E-Guide's "Tightwad Tips" will leave a Sox fan with a bunch of cash left over for souvenirs…
Land a great seat. Ballpark E-Guides provide the full lowdown on all the seating areas, from bleachers to suites. A Red Sox fan can learn how to avoid obstructed views, stay out of the sun, even get great club access…and get the most bang for their baseball buck…
Get to the game. A Ballpark E-Guide explains ALL of the ballpark's transportation options to fans…from going by car to using public transit, or even by ferry, tavern shuttle or pedicab, to make getting there hassle-free and half the fun…
Eat at the game. So many food choices at ballparks these days, from the five varieties of cheesesteaks in Philly to the numerous ways to eat crabmeat in Baltimore…Ballpark E-Guides goes over the entire ballpark menu and what a visiting fan needs to know!
All that fantastic info and so much more – great tips and hacks in this nicely-sized, colorfully illustrated booklet. What could be a better gift for a Red Sox fan than a complete, insightful guide for a ballpark they plan to visit?
Best of all, you benefit too…a Ballpark E-Guide sells for the crazy low price of just $7.99 plus shipping…and you get the eBook included free of charge. (You can keep that for yourself. I won't tell.)
Present the Red Sox fan in your life the gift of home field advantage – at Yankee Stadium, Camden Yards or any of 15 ballparks…order a Ballpark E-Guide today!
Testimonials
Slide 1
"Thank you so much Kurt and Ballpark E-Guides to help making my dream come true!"
- Francisco Campos, Belo Horizonte, Brazil
2

"Each guide is filled with solid-gold tips about the ballpark...I couldn't recommend these treasures more highly!"
– Joe Mock, Baseball Parks
26
"The descriptive, well-thought out content is a home run; the wit, sense of humor, and customization in the E-Guides is a grand slam."
- Jennifer C., Atlanta, GA
29
"Every guide will enhance your appreciation for whatever ballpark you happen to be in, but it will also help you save a TON of money along the way."
- Vincent S. Mt. Laurel, NJ
27
I used the E-Guide for everything from buying tickets to prepaid parking. We had a blast!"
- Laurie B., Somerdale, NJ
3
"There isn't a better resource to learn everything you need to know for an enjoyable experience."
- Joe Coblitz, Burning River Baseball
4
"I recently read the Fenway Park E-Guide and could not believe how much I learned."
- Scott Chamberlain, Woo Chamberlain
5
"I learned A LOT of things I didn't know even though I've been going to the Yard since I was 5."
- Lauren Tilley, Birds Watcher
6
"Jammed packed with all the info a rabid Red Sox fan needs when heading to the ballpark."
- Christine E., Boston Red Thoughts
7
"Besides being incredibly informative, it's fun to peruse and read."
- Floyd Sullivan, Chicago Now
8
"Ballpark E-Guides are a must for the avid, or the casual baseball fan...it's truly one brilliant idea."
- Bill Mahoney, White Sox Gab
9
"There's an exhaustive listing of and commentary on all the places where you can eat and drink."
- Ryan Richards, Let's Go Tribe
10
" I had never been to the park before, but after reading the E-Guide, the season ticket holders in front of me thought I was an expert. Kurt really knows his stuff!"
- Conrad Klank, Stadium Journey Correspondent
11
"The E-Guide is a handy reference tool, especially for newbies, but also for those who have been around the scene a while."
- Nick Michalski, The Brewers Bar
12
"Kurt Smith gives every fan thorough and comprehensive home field advantage."
- Greg Prince, Faith and Fear in Flushing
13
"Smith has nailed every detail and aspect of the Mets' home...from parking to the best food choices, the Citi Field E-Guide covers it all."
- Steve Sidoti, 7 Train To Shea
14
"Do you think you know all there is to know about getting around Citi Field? If you had a Ballpark E-Guide you would."
- Steve Keane, The Eddie Kranepool Society
15
"What makes this guide most valuable is its "Tightwad Tips," which will save you more than the price of this guide — perhaps hundreds of dollars."
- Lenny Neslin, LenNY's Yankees
16
"Reading this guide is almost like being at a game, except a beer won't run you $10."
- Andy Corselli, Yanks Go Yard
17
"Whether you are an experienced fan or a first-time visitor, his guides are well worth it. Check them out."
- Mike Sommer, The Sommer Frieze
18
"You think you know your own backyard ballpark better than anyone, and then someone like Kurt Smith shows you just how wrong you are."
- Patrick Adair, Dropped Strike Three
19
"I discovered many food options that sounded interesting and may prompt me to expand my horizons a bit."
- Jenn Zambri, Phillies Phollowers
20
"From where to park to where to get your home run ball signed, Kurt covers it all. This is a must have for any Phillies fan."
- Shay Roddy, High Hopes
21
"Kurt Smith has spent a lot of time researching PNC Park, and making sure you know about the deals, promotions, and other values."
- Jim Ambs, Kentucky Baseball

22
"Whether you be a tourist or a season ticket holder, I strongly recommend this guide."
- Lucan Coutts, Blue Jays Nation
23
"The Tightwad Tips, in particular, offer some great advice...it will save time for having to research, and may save you money and some headaches once you arrive."
- Robert Steele, Jays Journal
24
"Smith has done a great job providing baseball fans with inside tips that only grizzled veterans of Fenway Park know."
- Darryl Johnston, Fire Brand of the AL
25
"From transportation to seat selection to food and drink and where to get the best deals, you can find the answer in Ballpark E-Guides."
- Scott Ableman, Let Teddy Win
28
"Let Ballpark E-Guides show you ideas, recommendations, and insider tips for must see places and can't miss activities near your favorite ballpark."
– Pete Spadora, Spadora On Sports
American League East Ballparks
National League East Ballparks
American League Central Ballparks
National League Central Ballparks
Save