Everyone Loves Ballpark E-Guides!
I've read a lot of kind words from people in the years I've been doing this, but my favorite is this letter from a gentleman in Brazil, who makes a yearly visit to America to see our ballparks:
"My name is Francisco and I'm from Brazil (yes, we do have baseball in Brazil and a lot of people like it).
I have a project that, for me is a like a dream: I want to watch a ball game at all 30 ballparks of MLB! So I decided to start this year.
Searching on the internet for some information about it, I've found the "Ballpark E-Guides" website. I bought some of them and the more I read, the more I get stunned at how someone can gather so much relevant information at the same time, in just one document!!!
Imagine you´re going to a place you I´ve never been, you have a lot of questions about almost everything and you know almost nothing about it. Now, imagine you find someone that put together practically everything you want to know and also helps you to save some money!!! That´s Kurt Smith and Ballpark E-Guides I´m talking about!
So, if you want to know how to get to the ballpark and easily find a spot to put your car, this is your website; if you want to know where find the best food for the lowest price, Kurt is the man; if you want to know where are the best seats (including where the shadow is gonna be first!) and the places TO NOT SIT, don´t waste your time and buy one!
I can truly say that this website make me much more confident to go in this endeavor. Without it, the task would be much harder!
Thank you so much Kurt and Ballpark E-Guides to help making my dream come true!
Sincerely,Francisco Campos – Belo Horizonte – Brazil
Here are some other nice things people have had to say about Ballpark E-Guides: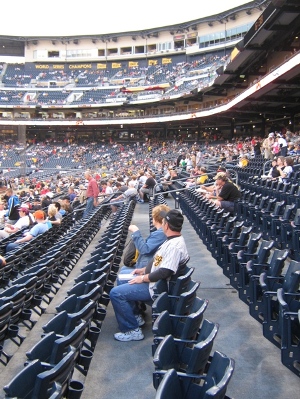 "I absolutely love Kurt Smith's Ballpark E-Guides. Every time I read one, I learn countless new facts about visiting that ballpark - the best ways to get to the park, ticket specials, the food there and on and on. Each guide is filled with solid-gold tips about the ballpark...I couldn't recommend these treasures more highly!"
– Joe Mock, Webmaster at BaseballParks.com and author of Joe Mock's Ballpark Guide
"Kurt Smith dives into the ballpark experience and produces page after page of useful advice and information for the fan who wants to know it all every time they go to the ballpark."
- Paul Swaney, Stadium Journey
"Kurt Smith's Ballpark E-Guides are a must for any fan. Want to know the best and cheapest way to support your team? Interested in the best seats to see the action? Curious about where to get the best food? Kurt provides all these answers and more."
- Rob Silverman, MetsMerized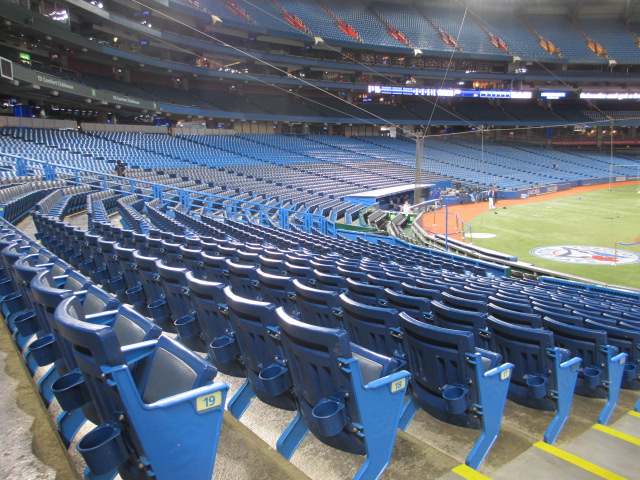 "If you love attending ballgames in person, you won't want to head to the park without your Ballpark E-Guide to help make your experience at the game the best it possibly can be."
- Chris McBrien, Dear Mr. Fantasy
"Ballpark E-Guides are a great way for fans to learn about a park before they go. There isn't a better resource to learn everything you need to know for an enjoyable experience."
- Joe Coblitz, Burning River Baseball
"Kurt Smith's Ballpark E-Guides are the most extensive resource on ballparks I've read in my 14+ years of baseball travel."
- Anthony Lorenzo – Ballpark Nerd
"I recently read the Fenway Park E-Guide and could not believe how much I learned. Kurt goes into great detail on where to park, where to buy tickets, best views in the park, how to get to the game, and best places to eat inside and outside of the park."
- Scott Chamberlain, Woo Chamberlain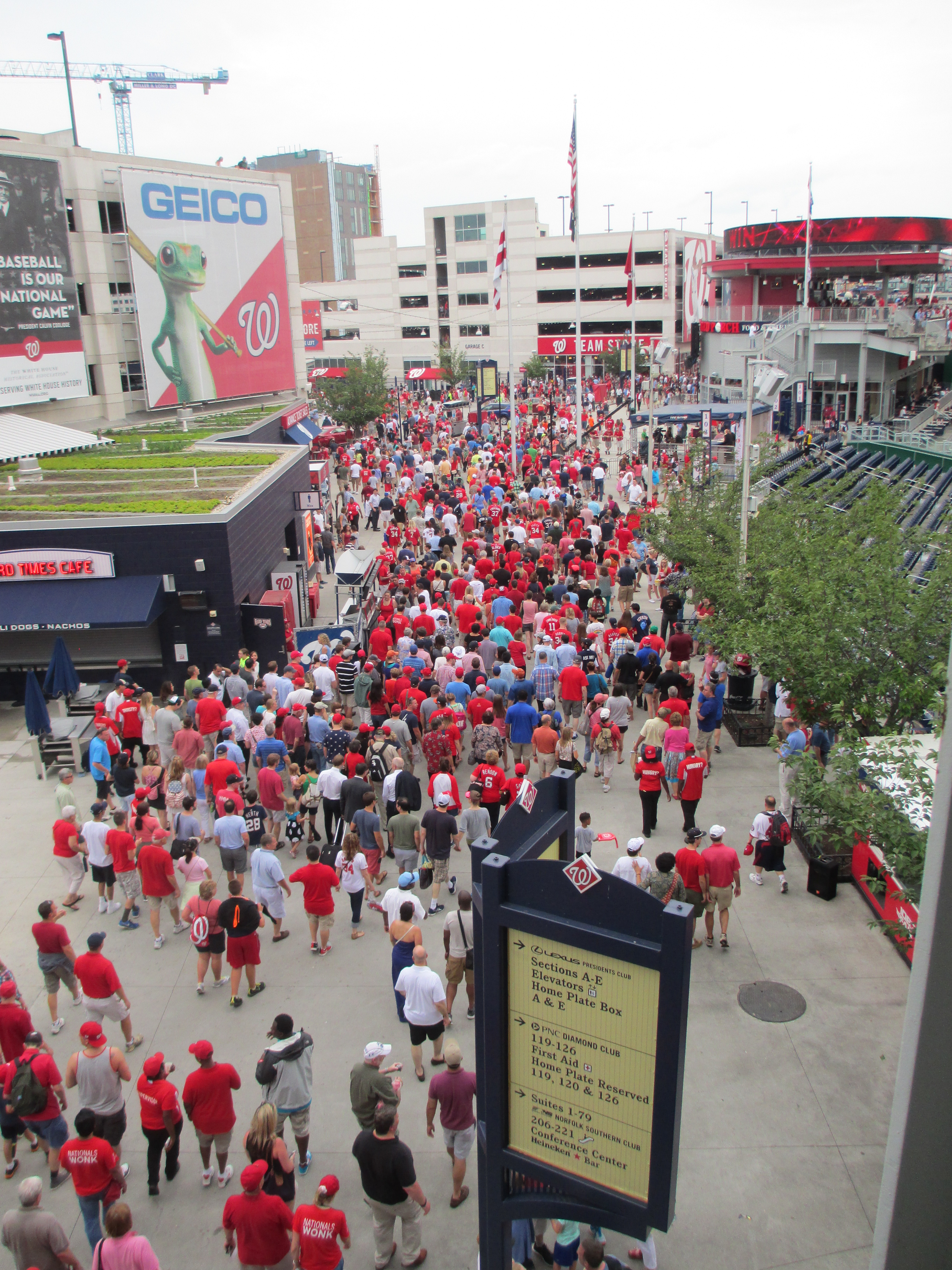 "This e-guide is a great companion to have with you…It really does answer every question you might have about buying a ticket, getting to the ballpark, and seeing all there is to see at the stadium."
- Martin Gandy, Talking Chop
"I learned A LOT of things I didn't know even though I've been going to the Yard since I was 5...It's written well and not boring at all, it's got a nice tone and he shares his opinion often."
- Lauren Tilley, Birds Watcher
"Ballpark E-Guides were a truly tremendous resource. Like many, my life is complicated being a dad and husband, but Kurt's tips saved me time and energy, allowing me to find the perfect seats to suit my ballpark personality and budget. I recommend leveraging Kurt and the knowledge he has gathered in his E-Guides. It simplifies the guessing and allows you to basically sit back and just enjoy the game!"
- Bill K., Burlington, NJ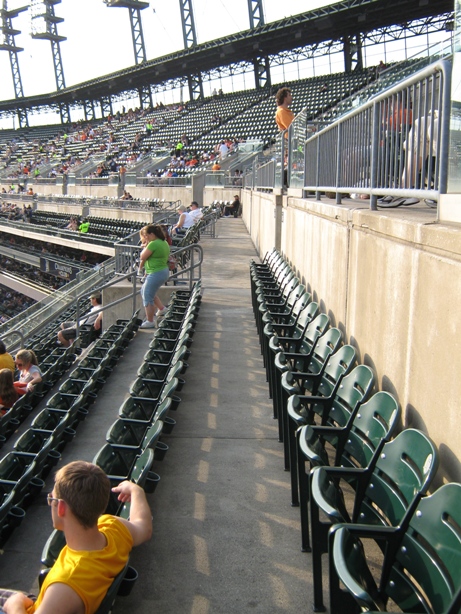 "Jammed packed with all the info a rabid Red Sox fan needs when heading to the ballpark. For the cost, it's a bargain at twice the price. Check it out, and you will have all you need to make the most of your pilgrimage to the Holy Land…"
- Christine E., Boston Red Thoughts
"I definitely recommend "Fenway Park" to you, especially if you have never been to Fenway...It can be an invaluable resource for your trip to the great Fens, whether it's your 20th time or your initial visit there...Kurt writes his guide with lots of good humor, too, and definitely from a common man's perspective."
- John Quinn, Lt. Guvna of Trivial Things, Red Sox Nation NY, The Mighty Quinn Media Machine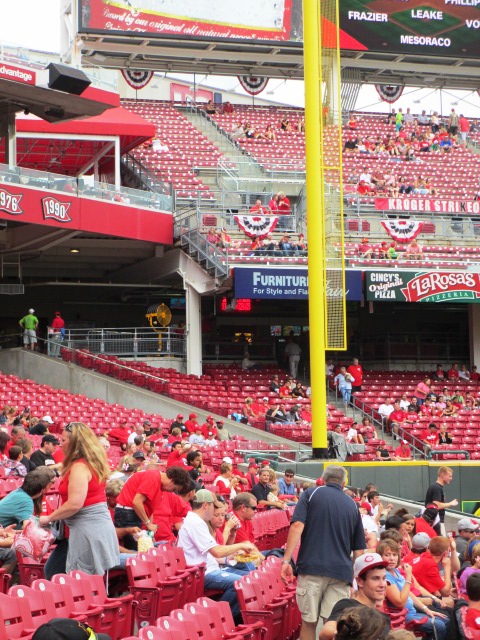 "There's a lot of knowledge and research packed into the pages, and you can tell that Smith did his homework while researching...for the price, and for the information that's already there, this is a recommended Guide for those not haunting Fenway on a regular basis, and for even those who do, I'm sure they'd learn something new from Smith's thorough research."
- Derek Hixon, SawxBlog
"I must recommend Smith's excellent, very detailed guide to Wrigley Field as an indispensable tool for navigating the ticket-buying process (which can be very confusing at Wrigley Field), the ballpark and its home city...besides being incredibly informative, it's fun to peruse and read."
- Floyd Sullivan, Chicago Now
"From soup to nuts and everything in between, the Wrigley Field E-Guide is filled with tales, tidbits, and talking points about the fabled Chicago ball yard...spend some time here and you will really be ready to partake of the pleasures of Wrigley armed with all kinds of tips and knowledge."
- Harvey Frommer, author of REMEMBERING FENWAY PARK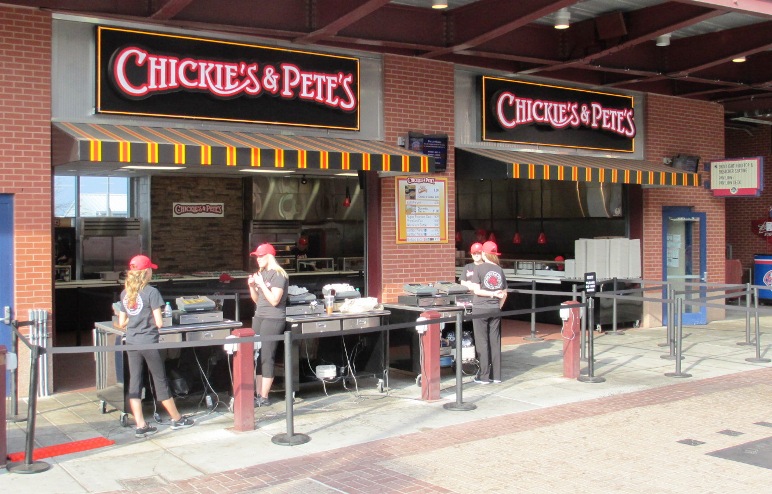 "I was pleasantly surprised…really well done…there is nothing worse than going to a new environment and leaving feeling like you missed something. From where to sit, how to get there and what to eat when you're there, these guides meticulously detail each of these and more."
- Joe Aiello, The View From The Bleachers
"Sure, Wrigley Field is Chicago's ballpark. But if you're visiting the city or just want to catch a game and don't even consider "The Cell," you're really missing out...if you really want to make sure you're getting the most out of your experience, check out Kurt's E-Guide. Talk about all-inclusive. You can put it on the board, yes!"
- Zachary Gropper, Grab Some Bench
"Ballpark E-Guides are a must for the avid, or the casual baseball fan...it gives you a virtual tour of every stadium, the ins and outs, the whats and the nots. It's truly one brilliant idea."
- Bill Mahoney, White Sox Gab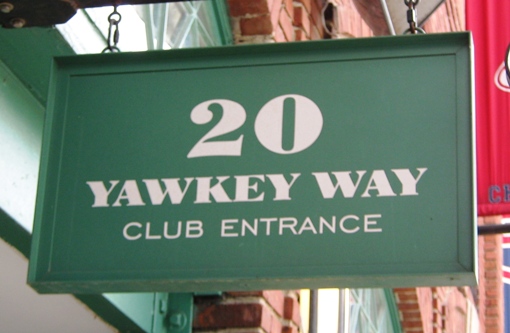 "Stuffed full of information about tickets, seating, transportation, food, history, and perhaps most importantly, vital tips designed to save you money on your next trip to the stadium."
- Jimmi Adair, Redlegs Review
"The guide packs a lot of info...it's obvious that the author spent a lot of time not only walking around Progressive Field, but also scoping out parking places and transportation options...there's an exhaustive listing of and commentary on all the places where you can eat and drink."
- Ryan Richards, Let's Go Tribe
"The Progressive Field E-Guide provides good information on the numerous seating and food options throughout the facility. Outside of the facility, there is a significant amount of space pertaining to parking options, perfect for a Ballpark Chaser like myself who wants inexpensive parking, and not just team-sanctioned parking options available through team websites."
- Matt Nelson, Ballparks of The Midwest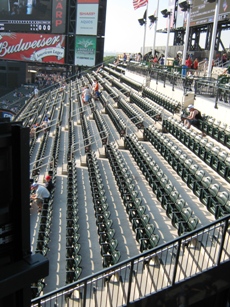 "A must have for any fan planning a visit. Whether you're a regular or a first timer, you will find everything you need to know. I had never been to the park before, but after reading the E-Guide, the season ticket holders in front of me thought I was an expert. Kurt really knows his stuff!"
- Conrad Klank, Stadium Journey Correspondent
"I was happy to find information I didn't know about Miller Park, and an abundance of detail about the rest of it. The E-Guide is a handy reference tool, especially for newbies, but also for those who have been around the scene a while."
- Nick Michalski, The Brewers Bar
"Kurt Smith gives every fan thorough and comprehensive home field advantage. Read it before heading out on the 7 and double-check it while waiting in line at Shake Shack."
- Greg Prince, Faith and Fear in Flushing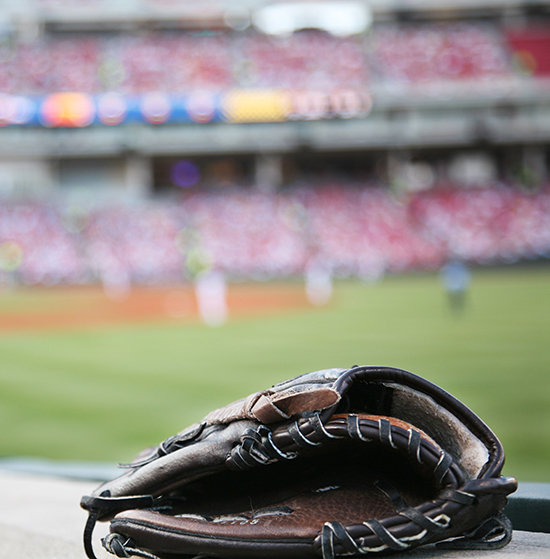 "Considering that the E-Guide is cheaper than almost any item available at Citi Field, it's worth your while because it tells you which seats and amenities are worth spending your money on and which you should skip. Plus it has tons of photos, including the views from various seats...No matter how many times we've been to the place, we're all still just learning about Citi Field. The E-Guide will certainly help in the education."
- Matt Silverman, MetSilverman
"Smith provides the basics, translates them from Mets-speak into something you can understand and gives "Tightwad Tips" to those who want an affordable experience at a game."
- Chris McShane, Amazin' Avenue
"I have made many trips to Citi over the last two seasons and can say that Smith has nailed every detail and aspect of the Mets' home... From parking to the best food choices, the Citi Field E-Guide covers it all."
- Steve Sidoti, 7 Train To Shea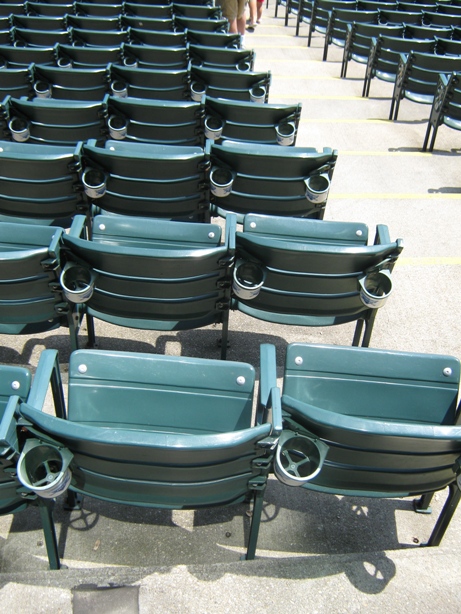 "You won't be breaking the bank to get some inside info and I think there is a nugget of detail in here for every fan, no matter how many miles their foam finger has logged."
- I.M. Forme, It's Mets For Me
"Do you think you know all there is to know about getting around Citi Field? If you had Ballpark E-Guide you would."
- Steve Keane, The Eddie Kranepool Society
"The E-Guide has insider info about buying tickets, paying less for tickets, figuring out what and where the best food is, not to mention getting to the Bronx without stress. It's all here...I'll definitely consult the Yankee Stadium E-Guide before my next visit to the Stadium."
- Jane Heller, Confessions of a She-Fan
"As someone who has visited Yankee Stadium at least a dozen times, it's tough to disagree with Kurt's reports. What makes this guide most valuable is its "Tightwad Tips," which will save you more than the price of this guide — perhaps hundreds of dollars." - Lenny Neslin, LenNY's Yankees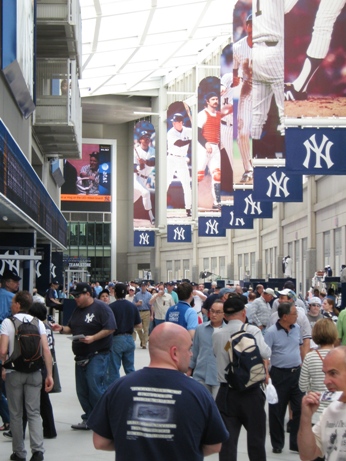 "This guide covers everything from Monument Park to John Sterling's jock size…just kidding, but it is one of the best Yankee Stadium guides I've ever seen...Reading this guide is almost like being at a game, except a beer won't run you $10."
- Andy Corselli, Yanks Go Yard
"Kurt lists guides to transportation, parking and seating, as well as food and drink, and gives you some cost-saving tips. For Yankee Stadium, and other ballparks, whether you are an experienced fan or a first-time visitor, his guides are well worth it. Check them out."
- Mike Sommer, The Sommer Frieze
"Let me tell you, these guides do not disappoint. I have gone to about 25 Yankee games in the new stadium and have come to realize that there are a lot places that I have failed to check out...All the different eateries and shops laid out in an easy-to-read format that in my mind worth the money."
- Brian Capozzi, Bronx Bombers Beat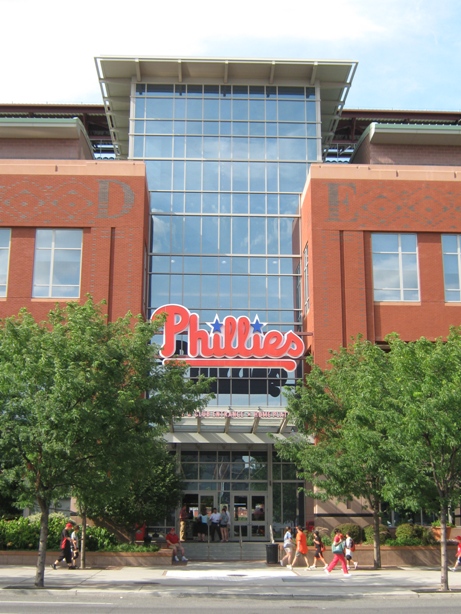 "You think you know your own backyard ballpark better than anyone, and then someone like Kurt Smith shows you just how wrong you are...I can assure you that there are some intricacies to the stadium that even season ticket holders don't know."
- Patrick Adair, Dropped Strike Three
"The information provided is great for first-time visitors to the ballpark, but it also includes a lot for the more experienced fans as well...after reading the guide, I discovered many food options that sounded interesting and may prompt me to expand my horizons a bit. There are also "Tightwad Tips" throughout the E-Guide to help you find creative ways to save money."
- Jenn Zambri, Phillies Phollowers
"Comprehensive, elaborate and entertaining. Kurt's guide to Citizens Bank Park reveals every nuance the season ticket holder wants to know while serving as a perfect introduction for first timers. From where to park to where to get your home run ball signed, Kurt covers it all. This is a must have for any Phillies fan."
- Shay Roddy, High Hopes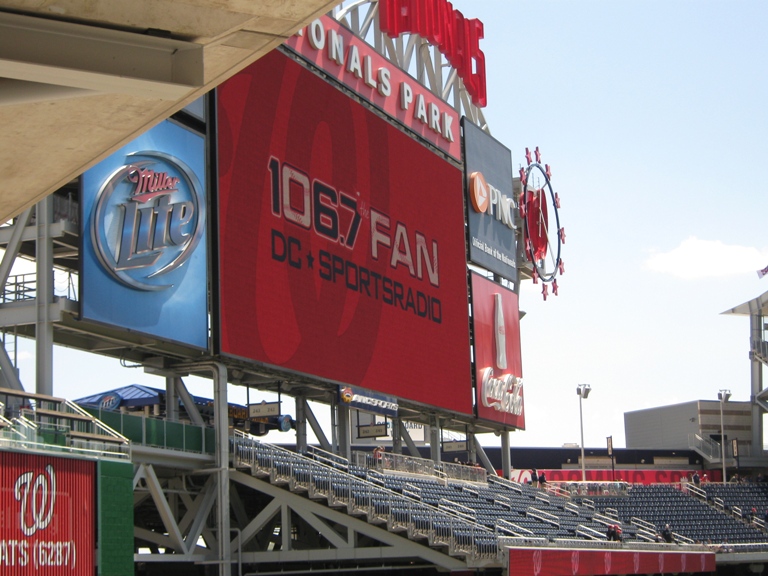 "If you're headed out this way, and you want to find all the insider [stuff] on Citizens Bank Park; the locale, the sights, the seats, the food, the public transit, and the quick history–Kurt Smith's e-guide for the Bank is like having a friend whose been there."
- Justin Klugh, That Ball's Outta Here
"A tremendous piece of work that encompasses many features of the best ballpark in America. Whether you're interested in traveling for a road trip or just love attending games, we highly recommend this guide that covers PNC from top to bottom."
– From Forbes to Federal
"The guide is well written and is packed with facts...It is a pretty solid 40 plus pages of info. There isn't any filler...Kurt Smith has spent a lot of time researching PNC Park, and making sure you know about the deals, promotions, and other values at the park."
- Jim Ambs, Kentucky Baseball

"The guide covers each section very thoroughly and I couldn't find much that they missed…I would recommend the purchase of one of Kurt Smith's publications if you are coming to a ballpark for the first time. It will maximize your game day experience."
- David Egbert, Rays Colored Glasses
"Kurt really did his homework here. The guide does a nice job of capturing the experience of game day at Tropicana Field. As someone who has probably done that several hundred times in his life, it was neat to read about them from another's perspective."
- Nolen B., Lakeland, FL
"The Rogers Centre E-Guide is perfect for casual fans, diehard fans and everyone in between...The attention to detail is ridiculous and the Tightwad Tips included in the guide are sure to help me cut down spending. Whether you be a tourist or a season ticket holder, I strongly recommend this guide."
- Lucan Coutts, Blue Jays Nation

"The Rogers Centre E-Guide is more than just a valuable tool; it is a necessity for road trippers and visiting fans. Smith knows all of the best and worst aspects of Rogers Centre and has an impressive understanding of local attractions and culture. He truly presents the information like a local."
- Robbie Raskin, Stadium Journey
"The guide functions like a knowledgeable friend of yours who's been to the park a lot and wants to tell you all about it. The Tightwad Tips, in particular, offer some great advice...it will save time for having to research, and may save you money and some headaches once you arrive in Toronto."
- Robert Steele, Jays Journal
"Since I'm planning to visit Washington, I got my hands on Kurt's guide for Nationals Park — and let me tell you, it is THOROUGH. I thought I knew D.C. well, but I've already found quite a few nuggets of info in the guide that I'm looking forward to testing for myself. Look in particular for the "Tightwad Tips"...in which he offers money-saving tips that you might not otherwise know about."
- Edward de la Fuente, The Itinerant Fan

"Smith has done a great job providing baseball fans with inside tips that only grizzled veterans of Fenway Park know...Next time you go to Fenway Park, why not arm yourself with some deep insight and take advantage of everything the park and its surroundings have to offer? [It's] cheaper than a Miller Lite at the game and this guide will show you tons of stuff!"
- Darryl Johnston, Fire Brand of the AL
"Kurt Smith has left no stone unturned. From transportation to seat selection to food and drink and where to get the best deals, you can find the answer in his Ballpark E-Guides."
- Scott Ableman, Let Teddy Win
"If you are heading down to DC for some Phillies/Nationals action be sure to grab the Nationals Park E-Guide! It has all the tricks of the trade from food to parking...It's totally worth it to have a half of clue what you are doing in enemy territory!"
- DT, Living Philly Sports