Progressive Field
---
Posted by Kurt Smith
If you're visiting Progressive Field for the first time, here are a few tips for when you go. With the Cleveland nine back on top of the American League for the first time since 1997, they're back to being a draw again…so plan accordingly.
Visiting Progressive Field, Tip #1: Try buying tickets from the team first. The Indians, for the moment, still have some great offers especially for multiple games. They also employ "dynamic pricing", and they claim that prices will be lowest when tickets first go on sale. That may be true, but given the increased demand, you should try to buy tickets through the team first. For mid-week games in April, you can probably still go to the box office on game day and avoid the considerable online fees.
(continued below)
Own the Ultimate Insider Fan's Guide to Progressive Field TODAY…
for just $4.99!

Click the image to learn more!

Visiting Progressive Field, Tip #2: Look into Club seating. The Club seats at Progressive Field are more expensive than much of the seating bowl, but they're worth it; you not only get food and drink from several buffet stations included in the ticket, you also have access to the climate controlled concourse and its tables and bars…no small thing in a city that often needs climate control. The club seats are divided into three sections, so you can go for the ones closest to the outfield to save a few bucks.
Visiting Progressive Field, Tip #3: Try an Ohio City shuttle. If you want to have a pre- or post-game drink, there are a couple of joints west of the ballpark that not only sell cheaper beer, but will also give you a ride to the game. The Great Lakes Brewery is a popular pre-game spot with both a great selection of local brews and good burgers, but the Flat Iron Café is no slouch either, and both have vans to take you to the game. It's not a bad way to avoid parking prices and traffic hassles at the ballpark, which can be considerable. But…
Visiting Progressive Field, Tip #4: Eat at the game. Progressive Field has shot up the rankings of best ballpark food selection in baseball in the last couple of years, and the best part is how many great Cleveland institutions are represented there now. There's the Melt grilled cheeses and the amazing Parmageddon sandwich, Barrio tacos, Ohio City Burritos, Fathead's sandwiches, and that Slider Dog from Happy Dogs and many more. Finish it up with Sweet Moses ice cream. The food selection absolutely rocks at the Prog these days…bring a few bucks and an appetite. And share.
Visiting Progressive Field, Tip #5: Enjoy Cleveland. The city was once called the Mistake By The Lake; today, thanks both to a great ballpark and Drew Carey, everyone can sing "Cleveland Rocks". There are several other attractions not far at all, like the Rock and Roll Hall of Fame (which is finally legit with the induction of Rush and Chicago), the Science Center, and a very happening nightlife scene between the ballpark and the other attractions. They even got their football team back.
There you go, five tips for visiting Progressive Field in Cleveland. Oh, don't forget to bring the kids, too…they have a brand new multi-level play area in right field, and unlike most ballpark play areas, the parents can watch the game from there. It's a win-win.
And if you want to know more about all of those cool food items, get yourself one of these.
More About Progressive Field:
Progressive Field Parking: Three Swell Spots
Three Foods To Try At Progressive Field
Three Extra Progressive Field Tips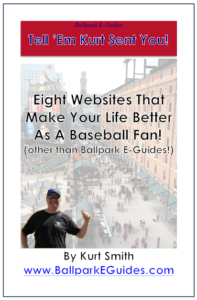 FREE eBook for traveling baseball fans! (That would be you.)

Do you love to visit ballparks and see live baseball? Subscribe to the Ballpark E-Guides e-mail newsletter today, and fill your scorecard with useful and entertaining info about your favorite ballparks, money-saving "tips of the week" for frugal fans, and of course, specials on the incredibly informative Ballpark E-Guides!
You'll also score this eBook, listing some of Kurt's favorite sites for traveling baseball fans, absolutely free of charge…just for stepping up to the plate and subscribing.
Get on base without swinging the bat…sign up today!