New York Mets
---
Posted by Kurt Smith
Visiting Citi Field with kids for a Mets game can be a challenge…the ballpark is fairly kid-friendly, but other than Flushing Meadows Corona Park nearby, there's not much for the kids to do close to a ballpark in the heart of Queens.
But the Mets do acknowledge the kids, so here are some tips to make life easier for the parents…and if you'd like more Citi Field knowledge, be sure to check out one of these.
Citi Field With Kids, Tip #1) Join The Club. I talked about this in the cheap Mets tickets post on this website, but it's worth repeating. The Mets Kids Club offers complimentary tickets, ticket offers, and other privileges for the young Mets fan including a scoreboard message.
The paid memberships are worth the price for the better quality offers, but even the free membership includes tickets.
Citi Field With Kids, Tip #2) Citi Field Fan Fest. Take the kids out to the center field plaza before the game…there's a bunch of interactive games there, the kids can pose for a photo with Mr. Met and throw a ball to dunk someone wearing an opposing team jersey.
There's a kids concession area out there with smaller portions and prices, and a kids-themed merchandise shop. And this is the heart of the food court at Citi, so parents can get a box of frites with their Pat LaFrieda steak sandwich too.
(continued below)
Own the Ultimate Insider Fan's Guide to Citi Field TODAY…
for just $4.99!

Click the image to learn more!

Citi Field With Kids, Tip #3) Family Sundays. Sunday is by far the best day to take the kids, with a bunch of activities like face painting and a promo item for the little ones. (Arrive early.) Plus they're usually day games, so the kids get home at a reasonable hour.
Sundays include kids running the bases (the "Mr. Met Dash"), which is always a popular promotion. Paid fan club memberships include front of the line passes for this.
There's three helpful tips for parents bringing the kids to Citi Field for a fun day at the Mets game. If you'd like to know more about picking the right seat, using the best route to get there and what's available to eat at Citi Field, be sure to order this informative and necessary guide.
More About Citi Field:
Visiting Citi Field – Five Tips For Newbies
Some Ways To Score Cheap Mets Tickets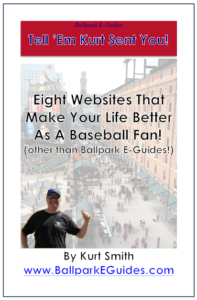 FREE eBook for traveling baseball fans! (That would be you.)

Do you love to visit ballparks and see live baseball? Subscribe to the Ballpark E-Guides e-mail newsletter today, and fill your scorecard with useful and entertaining info about your favorite ballparks, money-saving "tips of the week" for frugal fans, and of course, specials on the incredibly informative Ballpark E-Guides!
You'll also score this eBook, listing some of Kurt's favorite sites for traveling baseball fans, absolutely free of charge…just for stepping up to the plate and subscribing.
Get on base without swinging the bat…sign up today!