Citizens Bank Park
---
Posted by Kurt Smith
It's not hard to find a decent spot from the Citizens Bank Park seating chart. More than most teams, the Phillies price their seats about right, given the distance from home plate and acrophobic concerns.
Here are three seating suggestions for varying budgets courtesy of Ballpark E-Guides. But if you want the full lowdown on everything seating at Citizens Bank Park, get yourself this essential and inexpensive guide to Citizens Bank Park.
Citizens Bank Park Seating, Tip #1) The Hall of Fame Club. I don't know if I would pay full price for Hall of Fame Club seats…the food isn't included like at some ballparks…but if you can score a deal on SeatGeek or somewhere, go for it.
Hall of Fame Club seats are wider and padded, and you have a terrific bird's eye view of the field. Not to mention access to a climate-controlled lounge with numerous bars and food stands, including a Chickie's and Pete's. (In theory that should mean shorter lines for crab fries, but that isn't always the case.)
Climate-controlled areas are also great for those chilly April (or March) evenings in Philadelphia. It can get cold here.
(continued below)
Own the Ultimate Insider Fan's Guide to Citizens Bank Park TODAY…
for just $4.99!

Click the image to learn more!

Citizens Bank Park Seating, Tip #2) Baseline Seats. I recommend staying low at Citizens Bank Park, and the Baseline seats in the corners especially are a pretty nice deal. If you score tickets in Sections 111 or 136, you'll save a few bucks over the folks one section over.
I prefer the first base side for its straight ahead view of the left field scoreboard, but on hot summer nights the sun will be bearing down on you the first couple of innings, so keep that in mind. Bring sunglasses.
Citizens Bank Park Seating, Tip #3) The Terrace Deck. For small budgets, your best bet is in the upper deck Terrace, in sections 419-422 if you can since they face the field directly behind home plate. There are lower seats at a lower price, but they are very far from the action.
These seats are very high up, with the suites, club level and open concourses pushing everything higher. The angle is good so the view isn't bad, but be wary if you're acrophobic…also, you need to ascend quite a few steps to get to these, so keep that in mind if anyone in your group has mobility issues.
There's three good spots depending on your budget for a Phillies game. But there's a lot to know about choosing the best seats at Citizens Bank Park, so be prepared for every situation with this essential guide to the Phillies ballpark!
More About Citizens Bank Park:
Five Citizens Bank Park Tips For Newbies
Three Ways To Score Cheap Phillies Tickets
Can You Bring Food Into Citizens Bank Park?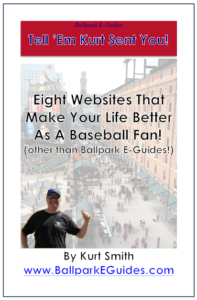 FREE eBook for traveling baseball fans! (That would be you.)

Do you love to visit ballparks and see live baseball? Subscribe to the Ballpark E-Guides e-mail newsletter today, and fill your scorecard with useful and entertaining info about your favorite ballparks, money-saving "tips of the week" for frugal fans, and of course, specials on the incredibly informative Ballpark E-Guides!
You'll also score this eBook, listing some of Kurt's favorite sites for traveling baseball fans, absolutely free of charge…just for stepping up to the plate and subscribing.
Get on base without swinging the bat…sign up today!