What's New At The Ballparks – National League
Posted by Kurt Smith
Sorry if it seems lazy, but with updating Ballpark E-Guides being the monumental task that it is, I don't really have the time to write detailed pieces about ballpark changes for 2018. So I've included links here that cover most of the new food items and such. (Click here for American League ballpark changes.)
If you already own a Ballpark E-Guide, drop me a line and let me know, and I'll send you the updated digital edition free of charge as soon as it's done.
So now, here we go…
Citi Field, New York Mets:
The Mets have renamed the Delta Sky360 Club to the First Data Club, and they've revamped the Citi Pavilion in the outfield, but the big news is all of the new food items at Citi, best detailed in this piece from LoHud. Cookie DO or Chomp Donuts? The decisions just get harder at Citi…
And I would be remiss if I failed to include this blog post from Grub Street about the new brewery opening adjacent to the ballpark. It's kind of a big deal.
Click here to purchase the Citi Field E-Guide…
Citizens Bank Park, Philadelphia Phillies:
Other than having Jake Arrieta on the mound, not too many new things at CBP this season. Although the vegan cauliflower cheesesteak looks…ok, cauliflower is the point where you take out the work "steak". Here's a piece about the new food from CBS Philly.
Oh, one more thing. You can now use your credit card with the beer guy.
Click here to purchase the Citizens Bank Park E-Guide…
Great American Ball Park, Cincinnati Reds:
WCPO Cincinnati has this piece about new places you can get a brew inside GABP. 24 oz. beers for five bucks isn't a bad deal at a ballpark, even if it's Budweiser.
And the Dayton Daily News has this informative article with great photos of the new ballpark eats in Cincinnati this season. (Is it me or is that Goetta burger creepy?)
Click here to purchase the Great American Ball Park E-Guide…
Miller Park, Milwaukee Brewers:
The nice folks at On Milwaukee offered this piece about the new food at Miller Park in 2018. Seems like the most interesting stuff is on the Club Level, so spring for a Club ticket if you can.
And the Journal-Sentinel talks about other changes to Miller Park here, like the new Johnsonville party area and a nursing lounge.
Click here to purchase the Miller Park E-Guide…
Nationals Park, Washington Nationals:
Jacqueline Dupree of the JDLand blog always does an excellent job keeping track of changes in Nationals Park and its surroundings. You can read her latest post about it here. For the moment, I can tell you that the inexpensive Half Street vendors looked to be gone in my last visit. Boo.
And the Washington Post covers the changes inside the ballpark here. No more Hatfield…guess they got wind that Hatfield was from Philly.
Click here to purchase the Nationals Park E-Guide…
PNC Park, Pittsburgh Pirates:
Here's a great article from Trib Live about all of the changes to PNC Park. The all you can eat section now offers reduced-price food items you'll actually want! And the Basil Brined Chicken Sandwich on the Club level looks pretty good.
And I can't wait to add this option for getting to PNC, if it comes to fruition. Stay tuned!
Click here to purchase the PNC Park E-Guide…
Wrigley Field, Chicago Cubs:
The Eater people have well covered the new food items available at Wrigley with this article. Looking forward to trying the Buffalo-loaded fries.
The Sports Bank blog has this excellent piece detailing the ongoing progress of the Wrigley renovations. Two new elevators!
Breaking my two-link-per-ballpark rule for Wrigley, since so many new food options are available in Wrigleyville now…like Jeni's Ice Cream, Big Star tacos, Aurelio's Pizza, and of course, Joe Maddon's restaurant. My how Wrigleyville has changed.
Click here to purchase the Wrigley Field E-Guide…
There's the majority of ballpark changes (for ballparks covered by me, at least) for 2018. Click here to see changes in American League ballparks.
And get your baseball tickets now!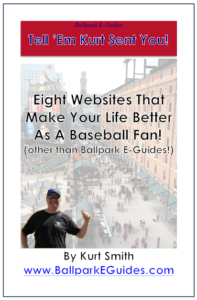 FREE eBook for traveling baseball fans! (That would be you.)

Do you love to visit ballparks and see live baseball? Subscribe to the Ballpark E-Guides e-mail newsletter today, and fill your scorecard with useful and entertaining info about your favorite ballparks, money-saving "tips of the week" for frugal fans, and of course, specials on the incredibly informative Ballpark E-Guides!
You'll also score this eBook, listing some of Kurt's favorite sites for traveling baseball fans, absolutely free of charge…just for stepping up to the plate and subscribing.
Get on base without swinging the bat…sign up today!