What's New At The Ballparks – American League
Posted by Kurt Smith
As I stated in the National League updates, I don't yet have time to write a bunch of stuff about the changes in ballparks for 2018, and I won't be able to get the changes added to the E-Guides for a few weeks.
So I've included a bunch of links below about changes in American League ballparks for 2018. (Click here for National League ballpark changes.)
If you already own a Ballpark E-Guide, drop me a line and let me know, and I'll send you the updated digital edition free of charge as soon as it's available.
So now, here we go…
Comerica Park, Detroit Tigers:
The hardworking crew at WXYZ did a great job with photos and video of the new stuff at Comerica here. Yes, you heard that right, Nutella egg rolls. I'm in.
And the Oakland Press did find out that the Tigers will be offering three games with peanut-free sections. Read about that here. My heart truly goes out to people that can't eat peanuts at ballgames.
Click here to purchase the Comerica Park E-Guide…
Fenway Park, Boston Red Sox:
The Red Sox are adding Crème Brulee French Toast to the Fenway Park menu. And man it looks amazing. Unfortunately unless you're a season ticket holder, you'll have to go for the new Fenway Taters. Here is Boston.com's bit about that.
And while my feelings about driving to Fenway Park are well known, I am a fan of ParkWhiz, so I don't object to this move.
Click here to purchase the Fenway Park E-Guide…
Guaranteed Rate Field, Chicago White Sox:
Bloggers for SB Nation do a great job, and South Side Sox is no exception; here is their post about changes in Guaranteed Rate for 2018…lots of nice photos. Personally liking the "Change Up" sausage myself. (See you there this year!)
And the White Sox are kicking butt in the craft beer department. Read Brewbound coverage of the new Revolution Taproom here. I love the quote about "the VIP experience for everyman".
Click here to purchase the Guaranteed Rate Field E-Guide…
Oriole Park at Camden Yards, Baltimore Orioles:
The Baltimore Sun gave us some great news…Polock Johnny's and Stuggy's are coming back to Camden Yards! (Still no Natty Boh, but you can get that cheap across the street.)
Here is some even better news from WBAL; the Orioles are offering family-friendly pricing in addition to their "kids under 9 get in free" promotion. All this and finally a half decent pitching staff.
Click here to purchase the Oriole Park at Camden Yards E-Guide…
Progressive Field, Cleveland Indians:
Did you think the Indians couldn't top Froot Loops on a hot dog for ballpark food weirdness? They're going for it with a "Flamethrower" sandwich that features…wait for it…Flamin' Hot Cheetos. Here's a beautiful picture of it from Cleveland 19.
And there are some new traffic patterns to be aware of, with the Quicken Loans arena getting some construction done. Here is the News Herald's piece about that.
Click here to purchase the Progressive Field E-Guide…
Rogers Centre, Toronto Blue Jays:
I couldn't find anything about new food items, so I'm sharing this outraged piece from the Toronto Star about the Blue Jays and their secondary market practices. No offense to my Jays fan friends, I highly doubt the Jays are the only team that does this. Personally I don't care.
And the Blue Jays now have their Kids Days on Sundays, where they set up bounce house and entertainment in the plaza next to the Centre. I can vouch for its impressiveness…Sunday is definitely the day to take the kids.
Click here to purchase the Rogers Centre E-Guide…
Tropicana Field, Tampa Bay Rays:
The Tampa Bay Times did a nice job of telling everyone what's new at the Trop…not bad for a team constantly expressing a desire to move out. And obviously, Ducky's is gone.
Oh, and Tabanero is the official hot sauce of the Rays. Because every team needs an official hot sauce.
Click here to purchase the Tropicana Field E-Guide…
Yankee Stadium, New York Yankees:
No need to search for New York news outlets to see the new food at Yankee Stadium this year…the Yankees have done it for us. Love that picture of the pulled pork nachos.
And just to remind us that they're the Bronx Bombers, the Yankees are letting fans in early to see Giancarlo Stanton and Aaron Judge take batting practice. If only they had done this with Mantle and Maris…
Click here to purchase the Yankee Stadium E-Guide…
There's the majority of ballpark changes (for ballparks covered by me, at least) for 2018. Click here to see changes in National League ballparks.
And get your baseball tickets now!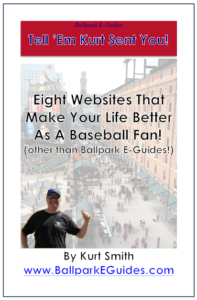 FREE eBook for traveling baseball fans! (That would be you.)

Do you love to visit ballparks and see live baseball? Subscribe to the Ballpark E-Guides e-mail newsletter today, and fill your scorecard with useful and entertaining info about your favorite ballparks, money-saving "tips of the week" for frugal fans, and of course, specials on the incredibly informative Ballpark E-Guides!
You'll also score this eBook, listing some of Kurt's favorite sites for traveling baseball fans, absolutely free of charge…just for stepping up to the plate and subscribing.
Get on base without swinging the bat…sign up today!