Great American Ball Park With Kids – 3 Things To Know
Posted by Kurt Smith
You could come up with worse family outing ideas than visiting Great American Ball Park with kids. Great American is one of the most kid-friendly ballparks in MLB, and the Reds offer lots of family-friendly deals for fans.
Here are three great reasons to take the children to a Reds game:
#1) The Fan Zone. The Fan Zone in the right field corner of GABP is a multi-level playground featuring a wiffle ball field, interactive games with prizes, and the Reds Heads Clubhouse for Kids Club members. A big slide leads from the upper level to the lower level. Often Reds employees will come out and pitch to the kids.
In addition to all of this, there are fireworks on Friday nights and kids' giveaways on Sundays.
(continued below)
Own the Ultimate Insider Fan's Guide to Great American Ball Park TODAY…
for just $4.99!

Click the image to learn more!

#2) Newport-On-The-Levee. If you really want to wear the kids out, you can park cheaply in the Newport-On-The-Levee complex across the river in Kentucky, and make a day of it. There's an aquarium, a movie theater, a Gameworks arcade, and many more places for the kids to have fun and for parents to spend money. Lots of places to eat and fun for kids of all ages.
When going to the game, park in Newport and use the inexpensive Southbank Shuttle, and get dropped off right at the door of Great American.
#3) The Riverfront. There's a pretty nice riverfront in Cincinnati, with a beautiful walking and bicycling trail, and a perfectly nice playground for the kids to burn off steam at the foot of the Roebling Bridge. Good if you're there, say, an hour before the gates open. The kids can burn off enough steam to sleep a couple of innings.
There's three places to see when visiting Great American Ball Park with kids…if you want to know how to choose a seat, a cool route to get there and what to eat on the GABP menu, try downloading this handy and inexpensive guide to the home of the Reds!
More About Great American Ball Park:
Three Ways To Score Cheap Reds Tickets
Five Great American Ball Park Tips For Newbies
Great American Ball Park Food – 3 Things To Try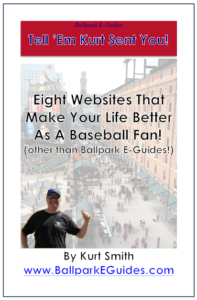 FREE eBook for traveling baseball fans! (That would be you.)

Do you love to visit ballparks and see live baseball? Subscribe to the Ballpark E-Guides e-mail newsletter today, and fill your scorecard with useful and entertaining info about your favorite ballparks, money-saving "tips of the week" for frugal fans, and of course, specials on the incredibly informative Ballpark E-Guides!
You'll also score this eBook, listing some of Kurt's favorite sites for traveling baseball fans, absolutely free of charge…just for stepping up to the plate and subscribing.
Get on base without swinging the bat…sign up today!