3 Great Braves Destinations For 2018
Posted by Kurt Smith
Time to actually start going in alphabetical order for this 30 Teams Destinations series…so today we'll list three great Atlanta Braves destinations for traveling fans in 2018. I don't know if this team has yet worn off the novelty of SunTrust Park yet (attendance numbers certainly suggest as much), but we all love seeing our favorite team in a different home.
So here we are, three great choices for traveling Braves fans in 2018:
Braves Destinations #1) Citizens Bank Park, Philadelphia, April 27-29. Forget what you've heard about Philadelphia fans. They're nice people here just like everywhere else, and they've finally won a Super Bowl so there's no reason for them to dislike Atlantans. And Citizens Bank Park is a must-see in the ballpark boom, with the neon Liberty Bell, Ashburn Alley and the Phillie Phanatic all going for it.
The Phillies aren't yet a powerhouse even if they are headed in that direction, so April tickets should go for a nice small amount of money. And with five different cheesesteaks to choose from and a restaurant nearby offering a shuttle ride, you can eat pretty well in the City of Brotherly Love without having to venture far from the ballpark.
Side Trips: The great thing about this one is that the Orioles will be facing off against the Tigers in nearby Camden Yards, which should also be a cheap ticket. Better yet, you can see the Braves again May 1-3 in Citi Field in New York, and catch the Braves in two cities in one trip.
Click here for five Citizens Bank Park newbie tips.
Braves Destinations #2) Miller Park, Milwaukee, July 5-8. The nice thing about planning a baseball trip to Milwaukee is that you don't have to worry about rainouts in the retractable roof of Miller. But it's well worth a visit for other reasons too…the insane tailgating scene, the numerous restaurants and bars that will shuttle you there, and the reverence this city has for baseball.
There's a whole lot about Milwaukee baseball that makes it special. All those mascot races you see at ballgames now are copycats of the Sausage Race at Miller, for example. But there's also the Uecker Seats, the numerous party areas including a Dew Deck with a climbing wall, and of course sausages and beer. Oh, and the Secret Stadium Sauce.
Side Trips: Just 90 miles south of Milwaukee is one of baseball's greatest shrines, Wrigley Field. The Cubs will be home that weekend against the Cincinnati Reds; a weekend Cubs game in July isn't a cheap ticket so go for Sunday's game if you can.
Click here for five Miller Park newbie tips.
Braves Destinations #3) Citi Field, New York, August 2-5. If you haven't seen Citi Field yet, you should make the trip. It's a beautifully designed ballpark with great visual appeal, but it's also one of the most foodie-friendly ballparks out there. Would you believe ten different kinds of fries?
The Mets offer a lot of relatively inexpensive tickets that include some decent club access; tickets to the Coca-Cola Corner, for example, include access to the Foxwoods Club, the Promenade Club, and the Porsche Grille. Not bad for what are otherwise awful seats. Definitely take advantage of this and use the climate controlled club areas in the dog days of August.
Side Trips: If you have the considerable means, there's no more classic rivalry in baseball than Yankees-Red Sox, and there's no better place to see it than Fenway Park, where the Yankees will be that weekend. (And of course Boston is the original home of the Braves.) Or if you don't want to drive four hours, head down the Turnpike to Philadelphia and see the Phils take on the Marlins…which should be a much cheaper ticket.
Click here for five Citi Field newbie tips.
There's three great Braves destinations for traveling fans; of course they'll be at Nationals Park in Washington a lot too. Wherever you go to see the Braves, be sure to download one of these first to point the way.
Thanks for reading…stay tuned for Diamondbacks destinations!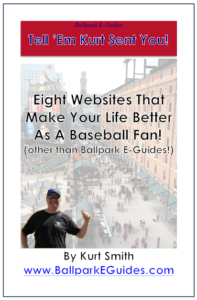 FREE eBook for traveling baseball fans! (That would be you.)

Do you love to visit ballparks and see live baseball? Subscribe to the Ballpark E-Guides e-mail newsletter today, and fill your scorecard with useful and entertaining info about your favorite ballparks, money-saving "tips of the week" for frugal fans, and of course, specials on the incredibly informative Ballpark E-Guides!
You'll also score this eBook, listing some of Kurt's favorite sites for traveling baseball fans, absolutely free of charge…just for stepping up to the plate and subscribing.
Get on base without swinging the bat…sign up today!