PNC Park Restaurants On Federal Street
Posted by Kurt Smith
There are four PNC Park restaurants…and when I say "PNC Park restaurants", I don't mean restaurants near PNC Park, I mean that there are actually four eateries attached to the ballpark, with entrances on Federal Street.
These are bona fide grub stops that are popular on game days, and with overall food quality inside the otherwise spectacular Pittsburgh ballpark (it's not that bad, but it could be better), they make a good choice for a pre- or post-game meal, with the outdoor dining and all that.
Here are your Federal Street choices…
PNC Park Restaurants, #1) The Hall Of Fame Club. It changes sponsors frequently…it's the Rivertowne Brewing Hall of Fame Club as I write this…but the Club has an entrance on Federal Street and the indoor sit-down restaurant sits behind the right field bleachers. Unfortunately with the new standing room added there isn't much of view of the field these days, but it's still a pleasant atmosphere.
Menu items include the "It's A Burgh Thing" steak salad, "That's One Spicy Burger" with bacon, jalapeno pesto, pepper jack cheese and banana peppers, and for health nuts a vegan burger with secret sauce.
And with Rivertowne Brewing as the sponsor, you have great brews available, and best of all, drink prices drop significantly after the game.
PNC Park Restaurants, #2) Atria's. Atria's is a sports bar with several locations in Pittsburgh; their PNC outpost is a small tavern inside but has tables and bartenders on the Federal Street sidewalk. Before games you can get a beer on Federal Street that is not cheap but cheaper than it will be during the game.
Atria's menu is tavern-style grub; burgers, steak and seafood entrees, etc. Most people in the online universe are happy with the size of the burgers. There are TVs in the bar if you'd like to watch the game from there.
Pro tip! The Pirates give out a free program called "Inside Pitch"…check your program for coupons for Atria's or other nearby joints.
NOTE FROM KURT: I've recently learned that Atria's has departed from their PNC Park location, I don't yet know what is replacing it. Will update this when I can…
(continued below)
Own the Ultimate Insider Fan's Guide to PNC Park TODAY…
for just $4.99!

Click the image to learn more!

PNC Park Restaurants, #3) Slice On Broadway. South Hills-based Slice replaced Diamond as the PNC Park pizza shop in 2016; and it was a good choice. Slice's New York-style pizza has been voted Best Pizza in Pittsburgh by several periodicals, including Pittsburgh Magazine.
It looks just like an pizza shop, but the slices are large and tasty, and they have other terrific menu items like strombolis and hoagies. If you go before the ballpark's gates open, it's priced very reasonably, but with an entrance into the ballpark, you can go there for a slice during the game in a ballpark strangely devoid of a pizza stand. (They serve Fox's pizza den inside, but it isn't heavily advertised.)
Unfortunately prices rise after the ballpark gates open, but Slice is well worth a visit if you're a pizza fan.
PNC Park Restaurants, #4) Steel Cactus. Didn't mean to put Steel Cactus last, since they're perfectly good. Steel Cactus gives baseball fans what they need at PNC; a burritos and tacos option. The Federal Street entrance leads to a full restaurant and bar, and you have a choice of burritos and tacos with an impressive selection of stuffings.
It's probably not a place to go if you're looking for the most authentic Mexican food experience, but for a pre- or post-game meal it's more than adequate. Burritos are nicely sized and reasonably priced and they have tasty salsas.
Steel Cactus is mostly a sit-down restaurant, but they do have a window in Highmark Legacy Square where you can order a burrito.
There's some of what you need to know about the Federal Street restaurants at PNC Park, a lesser known part of the Pittsburgh baseball experience. If you're making a trip to see Pirates baseball in one of America's best ballparks, don't miss out on everything else you need to know…download and read this essential guide to PNC Park!
Click here for more great tips about Pittsburgh's beautiful ballpark.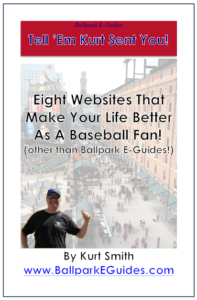 FREE eBook for traveling baseball fans! (That would be you.)

Do you love to visit ballparks and see live baseball? Subscribe to the Ballpark E-Guides e-mail newsletter today, and fill your scorecard with useful and entertaining info about your favorite ballparks, money-saving "tips of the week" for frugal fans, and of course, specials on the incredibly informative Ballpark E-Guides!
You'll also score this eBook, listing some of Kurt's favorite sites for traveling baseball fans, absolutely free of charge…just for stepping up to the plate and subscribing.
Get on base without swinging the bat…sign up today!