3 Great Orioles Destinations For 2018
Posted by Kurt Smith
Okay, so maybe Orioles fans don't have a lot to get excited about this season. The team finished last in 2017 and has since lost their closer and are still searching for pitching.
But that shouldn't allow any Orioles fan to let that ruin their vacation. Here are three Orioles destinations for 2018 where you can take a road trip and root for the underdogs…
Orioles Destinations, #1) Guaranteed Rate Field (White Sox) – May 21-24. Anyone old enough to remember the 1983 ALCS? Lamarr Hoyt's unhittable performance in Game 1 followed by three straight O's victories en route to their (still) most recent World Series appearance? OK, didn't mean to be a downer reminding Birds fans how long it's been.
But anyway, Guaranteed Rate is that "other" ballpark in Chicago, and it's got some cool things going for it, like the Kraft Cave with craft beers and craft burgers. They even have a guy there to tell you what type of burger goes with your beer. White Sox fans are also big on tailgating if you're into that; lots of large parking spaces around the place with bins to dump your coal.
I don't know how good the White Sox will be this year, but usually the White Sox don't sell out many games, and you can often buy tickets at the box office on game day and save on fees. Or seek out people with extras; I've actually seen two games there for free that way. (Well, I did buy a beer for the people that gave me the ticket…)
Side Trips: The Indians will be at Wrigley Field that week for a remake of the epic 2016 Series; it may be a tough ticket but being during the week in May might offset that a little bit. Or see the Giants in Wrigley that weekend for another black and orange team.
Here are five newbie tips for Guaranteed Rate Field.
Orioles Destinations, #2) Citi Field (Mets) – June 5-6
Believe it or not, there are a sizable amount of New Yorkers who dislike the Yankees as much as O's fans do, and many of them hang out at Citi Field. I was only a year old during the 1969 Series, so it was less traumatic for me and I don't actually hate the Mets.
Citi Field is worth a visit just for the food; they have four stands selling various types of burgers and at least ten different kinds of fries. For a midweek June game, you should be able to score a reasonably cheap ticket with access to the Foxwoods and Promenade Clubs, with Rao's sandwiches and Big Mozz sticks, respectively. The food selection is unbelievable at Citi…don't just go for the most expensive hot dog in baseball there.
It's also a beautiful ballpark in its own right, and if you have the means to use Amtrak it's only about a two and a half hour ride from Baltimore's Penn Station to NYC's Penn Station. From there the LIRR is a quick, pleasant and convenient ride to the home of the Mets.
Side trips: The Brewers play the Phillies at beautiful Citizens Bank Park starting Friday June 8, if you're staying in NYC a few days and want to stop in Philly for a game on the way back.
Here are five newbie tips for Citi Field.
Orioles Destinations, #3) Progressive Field (Indians) – August 17-19
Progressive Field was the "second" ballpark in the post-Camden Yards ballpark boom (actually tied for second, with the soon to be demolished Ballpark in Arlington). It made quite the splash in Cleveland…between a beautiful new downtown ballpark and a suddenly contending team, the place had an unheard-of 455 straight sellouts.
Today Progressive Field is very different, but in a good way. Like at Citi Field, the food selection is insane…there are at least ten local Cleveland eateries represented in the place. Melt grilled cheese sandwiches, Barrio tacos, Dante's Inferno pizza, Sweet Moses ice cream…bring your appetite to this place.
It's also a terrific baseball atmosphere; the huge scoreboard with the city backdrop, a recent World Series team that is fun to watch, and a great post-game scene with taverns nearby selling cheap beers just like Sliders and Pickles Pub in Baltimore. It's a great place for the kids too, with a huge play area that stretches indoors and out with spots where parents can watch the game.
Side Trips: See an interleague interstate matchup between Cleveland and Cincinnati at the highly underrated Great American Ball Park in Cincinnati on August 15. The Cubs will be in Pittsburgh starting the 17th; PNC Park is one of the better parks in baseball and is just a two hour drive from Cleveland.
Here are five newbie tips for Progressive Field.
That's three places where you can take a trip to see the Orioles in 2018; and of course they'll be in Fenway Park and Yankee Stadium a lot too.
Wherever you plan to see the Birds, be sure you're prepared with one of these insightful eBooks…they're just $4.99 and will tell you everything you need to know, including how to save boatloads of cash!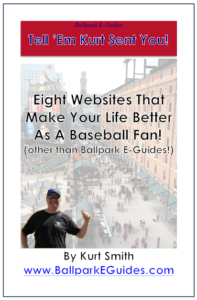 FREE eBook for traveling baseball fans! (That would be you.)

Do you love to visit ballparks and see live baseball? Subscribe to the Ballpark E-Guides e-mail newsletter today, and fill your scorecard with useful and entertaining info about your favorite ballparks, money-saving "tips of the week" for frugal fans, and of course, specials on the incredibly informative Ballpark E-Guides!
You'll also score this eBook, listing some of Kurt's favorite sites for traveling baseball fans, absolutely free of charge…just for stepping up to the plate and subscribing.
Get on base without swinging the bat…sign up today!