PNC Park With Kids – Three Things to Know
Posted by Kurt Smith
Doing PNC Park with kids? Great idea…it's a great time to expose them to baseball in one of the planet's most beautiful settings for it. When the Pirates are competitive, it's plenty exciting, but it's a pretty fun experience (and cheaper) even when the Bucs linger near the bottom of the NL Central.
If you're bringing the kids to PNC Park, here are a few things you should know about. And if you're looking to save a few bucks when you go, order yourself one of these.
PNC Park With Kids, Tip #1) Go on Sunday. Sunday is by far the best day of the week for kids at PNC. Federal Street north of the ballpark is already closed to traffic, and on Sunday it becomes the Giant Eagle Fan Zone, with inflatable rides, face painting and a bunch of other stuff for the kids.
Sundays are also kids run the bases days, where the little ones can run around the infield after the game. This is a very popular promotion, which brings me to PNC Park With Kids Tip #2…
PNC Park With Kids, Tip #2) Join the Bucaroos. By all means have your kid enrolled in the Pirates Bucaroos fan club. There are free memberships that include tickets and buy-one-get-one offers, but the paid membership is well worth the few extra bucks: four tickets and front of the line privileges on run the bases days.
The kids also get cool Pirates stuff like a bedroom sign and parrot blanket with the paid membership. They'll treasure it forever.
(continued below)
Own the Ultimate Insider Fan's Guide to PNC Park TODAY…
for just $4.99!

Click the image to learn more!

PNC Park With Kids, Tip #3) The Kids Play Area. The Pirates have built a respectable kids play area in the right field corner of the ballpark. There's a wiffle ball field and slides and such, and it's a place where the kids can burn off energy before the game. If you want to be the first ones there, try going in through the lesser used right field gate.
Oh, one other thing…don't forget that there's a Bucaroos food stand, in the left field corner, with smaller portions and prices for kids.
There you go…some helpful things to know for your next Pirates game with the little ones. Need more help? Like, say, with finding cheaper tickets or landing a great seat? Do yourself a big solid and download this inexpensive and very handy guide to PNC Park!
And click here for some more helpful PNC Park stuff…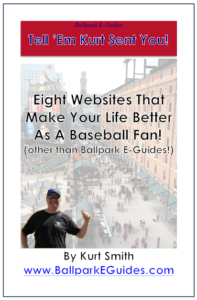 FREE eBook for traveling baseball fans! (That would be you.)

Do you love to visit ballparks and see live baseball? Subscribe to the Ballpark E-Guides e-mail newsletter today, and fill your scorecard with useful and entertaining info about your favorite ballparks, money-saving "tips of the week" for frugal fans, and of course, specials on the incredibly informative Ballpark E-Guides!
You'll also score this eBook, listing some of Kurt's favorite sites for traveling baseball fans, absolutely free of charge…just for stepping up to the plate and subscribing.
Get on base without swinging the bat…sign up today!