3 Great Red Sox Destinations For 2018
Posted by Kurt Smith
As an Orioles fan, I am well aware of the willingness of Red Sox fans to travel. The Red Sox themselves offer "Red Sox Destinations" packages.
Frequently Orioles fans are outnumbered at Red Sox games at Camden Yards. (Glad you all love our ballpark so much!) So I figured I'd help you guys spend your money visiting other ballparks instead, so we could have some of our home back…not that there's much for O's fans to get excited about this year (are we up to four pitchers yet?).
Here are some pretty cool places that the Red Sox will visit in 2018:
Red Sox Destinations #1) Nationals Park, July 2-4. What better place to be on America's birthday than the nation's capital? Watch the presidents race at Nationals Park on the 4th, and then take in the amazing fireworks display that night overlooking the Potomac.
Washington probably has some Amtrak routes that Boston fans can hop on if you don't mind spending a few bucks. It's a lengthy drive…about eight hours…so it would probably require a flight if you don't want to deal with NYC and Philly area traffic (and Baltimore, for that matter).
Lots of good food at Nats Park to try, if you've never been…like the Ben's Chili Half-Smoke, the numerous G sandwiches by Mike Isabella, or the amazing District Doughnuts.
Side Trips: See Mike Trout and the Angels in Camden Yards June 29-July 1, or stop at Citi Field on the way back if you're driving or Amtraking it, and see the Mets take on the divisional rival Rays.
Here are some tips for newbies at Nationals Park…
Red Sox Destinations #2) Citizens Bank Park, August 14-15. It's about a six hour drive to Philadelphia from Boston, so it's a place where Red Sox fans congregate, I know. The nice part about this trip is that the Sox will be in Baltimore the weekend before, and on the way back you can see the Yankees take on the Blue Jays at the Stadium. Makes a nice East Coast baseball trip with Philly in the center.
Citizens Bank Park is a great place to see a game in its own right; there are the several varieties of cheesesteaks, the neon Liberty Bell, and of course the Phillie Phanatic, the greatest mascot in sports. And a bunch of Sox fans should have your back if you're worried about Phillies fans, but the city just beat the Patriots in the Super Bowl, so you'll probably get some good-natured grief about that.
Side Trips: See the first paragraph…catch the Sox in Baltimore and do a win-win in Yankee Stadium with at least one AL East rival losing!
Here are five tips for newbies at Citizens Bank Park…
Red Sox Destinations #3) Guaranteed Rate Field, August 30-September 2. The White Sox are a team on the rise, but the Red Sox should still be able to take them at this point. Check out that "other" ballpark in Chicago…it may lack the charm of Wrigley, but it's a perfectly nice and less crowded place to see a ballgame.
If you're taking the kids, Guaranteed Rate has a great play area with an elevated wiffle ball field and other interactive stuff; if you're there for the party there's plenty of tailgating in the White Sox lots. Like I said, Wrigley it's not, but sometimes that's a good thing. Check out the Craft Kave…not just Chicago themed craft beers, but craft burgers too…and someone to advise you what beer to drink with your burger. If that isn't baseball, I don't know what the heck is.
Side Trips: Get there a few days early and see the Cubs and Mets at Wrigley Field…and stay the weekend and see the Brewers take on the Cubs on Labor Day. That will be a tough ticket, but it's worth it for the rivalry with lots of visiting Cubs fans. Red Sox fans can get behind that.
Here are five tips for newbies at Guaranteed Rate Field…
There you go…three great Red Sox destinations (that aren't Yankee Stadium or Camden Yards) where you can congregate in 2018. But hey, you're all welcome in Camden Yards too.
Wherever you go to see the Sox, don't go in blind…be prepared and save a big chunk of money with one of these.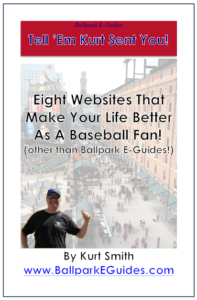 FREE eBook for traveling baseball fans! (That would be you.)

Do you love to visit ballparks and see live baseball? Subscribe to the Ballpark E-Guides e-mail newsletter today, and fill your scorecard with useful and entertaining info about your favorite ballparks, money-saving "tips of the week" for frugal fans, and of course, specials on the incredibly informative Ballpark E-Guides!
You'll also score this eBook, listing some of Kurt's favorite sites for traveling baseball fans, absolutely free of charge…just for stepping up to the plate and subscribing.
Get on base without swinging the bat…sign up today!