Guaranteed Rate Field Restaurants
Posted by Kurt Smith
Since the home of the White Sox is surrounded mostly by parking lots, the nearby scene is known far more for above average tailgating than a slew of eateries. (There are a few decent watering holes nearby though, contrary to popular myth.) That said, there are several Guaranteed Rate Field restaurants – as in attached to or inside the ballpark. Here are three worth noting:
Guaranteed Rate Field Restaurants, #1) The ChiSox Bar & Grill. The nice thing about the ChiSox Bar & Grill attached to the ballpark is being able to enjoy a meal before or after the game, without having to move your car.
The ChiSox draws a good crowd and the bar on the lower level gets pretty crowded. The food is popular among fans: burgers, tacos, sandwiches and appetizers like jalapeno cheddar hush puppies and pork nachos…and of course, wash it down with Big Hurt Beer. The ChiSox has appetizer specials on game days.
(continued below)
Own the Ultimate Insider Fan's Guide to Guaranteed Rate Field TODAY…
for just $4.99!

Click the image to learn more!

Guaranteed Rate Field Restaurants, #2) The Craft Kave. The White Sox turned the Miller Lite Bullpen Sports Bar into the much more tasteful Craft Kave…it's actually a party area with seating in right field and a full bar underneath.
It used to be for groups, but you can now enter the Craft Kave and not only choose from over 70 Chicago area craft brews, but also some truly incredible craft burgers like the "Veeck as in Wreck" burger with two patties and onion rings piled on, or the "Wild Pitch" with mushrooms and Swiss. There's even a White Sox staffer that helps you choose the perfect brew to go with your burgers. Amazeballs.
Guaranteed Rate Field Restaurants, #3) Xfinity Zone. The Xfinity Zone in the lower right field concourse is a great spot for a sit down meal. There's no view of the game, but there are plenty of TVs and you're bound to be pretty close to one.
The menu includes superlative deli-style sandwiches such as the Ultimate Turkey Club and the Supreme Corned Beef, along with dogs, sausages and fried pickles and such. There's a full bar with mixed drinks and domestic or craft brews.
There's much more food at Guaranteed Rate Field to choose from…like the Comiskey Dogs and elotes, but this should help you choose a sit down spot in the absence of a nearby restaurant. If you want the full lowdown on the food selection inside and outside of Guaranteed Rate Field, try reading this handy little guide.
Click here for more great Guaranteed Rate Field tips…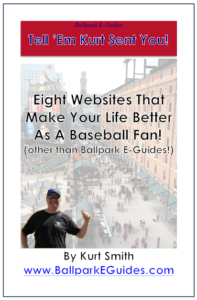 FREE eBook for traveling baseball fans! (That would be you.)

Do you love to visit ballparks and see live baseball? Subscribe to the Ballpark E-Guides e-mail newsletter today, and fill your scorecard with useful and entertaining info about your favorite ballparks, money-saving "tips of the week" for frugal fans, and of course, specials on the incredibly informative Ballpark E-Guides!
You'll also score this eBook, listing some of Kurt's favorite sites for traveling baseball fans, absolutely free of charge…just for stepping up to the plate and subscribing.
Get on base without swinging the bat…sign up today!