Wrigley Field With Kids – Four Things To Know
Posted by Kurt Smith
Enjoying a Cubs game at Wrigley Field with kids can be a challenge. It's a bit tough to keep them entertained, for example, with little playground space. But it can be done. Here are a few things parents should know about bringing the family to the Friendly Confines:
Wrigley Field With Kids, Tip #1) Try Terrace Reserved Seats. You may want to sit in the Terrace Reserved sections (and avoid obstructed views), especially on hot summer days. They have several advantages over the similarly priced bleacher seats…they're in the shade, and you're less likely to hear the colorful language of some bleachers fans.
And by Wrigley standards, the Terrace Reserved seats are more affordable for families, no small thing here.
Wrigley Field With Kids, Tip #2) Join The Kids Club. The "Clark's Crew" Cubs Fan Club membership for kids now includes a game ticket (woo-hoo!), and the kid gets cool stuff like a backpack and lanyard too. Look for the "Fans" section of the Cubs' website.
The benefits are well worth the cost. Membership includes newsletters and merchandise discounts, and front of the line access on run the bases Sundays.
Speaking of which…
(continued below)
Are You Spending $312.32* For One Cubs Game?
*Average cost for a family of four in 2016.

You can do better. Click the image to find out how.
Wrigley Field With Kids, Tip #3) Go On Sundays. And Go Early. The Cubs offer a chance for the kids to run the bases at Wrigley Field (and that's pretty cool, isn't it?). Just get there early, so you can get a wristband for the kid when you come in.
Some Sundays are giveaway days, where the Cubs hand out stuff to young fans like lunch bags and wristbands. All pretty cool, but remember this…
Wrigley Field With Kids, Tip #4) Keep A Close Eye On The Kids. The Wrigley concourses get very crowded, especially for the last hour before the game starts, and it's easy to lose track of someone small. Be sure the kid knows what to do in case you get separated…show them what Cubs employees look like and all that. It's a crowded place outside too, so just be aware.
So there is, I hope, some useful advice for doing a Cubs game with the little ones. If you'd also like to save money, choose a great seat and know the best ways for your family to get to Wrigley Field, this handy and inexpensive little guide is for you.
More About Wrigley Field:
Five Wrigley Field Tips For Newbies
Three Ways To Score Cheap Cubs Tickets
Wrigley Field Hot Dogs And Sausages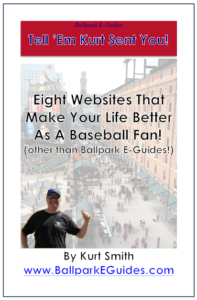 FREE eBook for traveling baseball fans! (That would be you.)

Do you love to visit ballparks and see live baseball? Subscribe to the Ballpark E-Guides e-mail newsletter today, and fill your scorecard with useful and entertaining info about your favorite ballparks, money-saving "tips of the week" for frugal fans, and of course, specials on the incredibly informative Ballpark E-Guides!
You'll also score this eBook, listing some of Kurt's favorite sites for traveling baseball fans, absolutely free of charge…just for stepping up to the plate and subscribing.
Get on base without swinging the bat…sign up today!