Three Ways To Score Cheap Indians Tickets
Posted by Kurt Smith
With the Tribe at or near the top of the AL Central often these days, cheap Indians tickets can be harder to come by. But you still have some ways to save a few bucks on tickets – here are three courtesy of Ballpark E-Guides. (And remember, there's plenty more where that came from in this indispensable guide to Progressive Field.)
Cheap Indians Tickets, Tip #1) Brave The April Cold. Cleveland weather being what it is, the Tribe doesn't generally draw big crowds for April games, especially on weeknights with dynamic pricing. This is a great time of year to save on Club tickets or tickets with access to the Home Plate Club, and you can duck out of the cold in the club.
You can also order a cheap ticket and move to the upstairs section of the Corner bar, and move to the fire pit between innings. And who knows, it might not be that cold that night. I've gone to April games in Cleveland that weren't too bad.
(continued below)
Own the Ultimate Insider Fan's Guide to Progressive Field TODAY…
for just $4.99!

Click the image to learn more!

Cheap Indians Tickets, Tip #2) Take The Volunteer Challenge. The Indians sometimes offer tickets and other rewards to philanthropic sorts; you can sometimes score tickets by donating cans of food or a used glove.
If you give your time through the team's Volunteer Challenge, you can reap some rewards when you build up a number of volunteer hours, including game tickets. Who says good deeds aren't appreciated? Not the Indians!
You can find opportunities like this in the Community section of the Indians' website.
Cheap Indians Tickets, Tip #3) Eschew The Fees. If you know a game probably won't sell out (see the April tip above), try getting your tickets at the box office or the team shop rather than online…with multiple tickets especially, you can save a considerable chunk of online fee change.
The only exception is the District Ticket, which is only available online. Bonus tip: the Indians sometimes waive ticket fees and will tell you so in their e-mail ticket alerts; that's the time to snag those District Tickets.
Cheap Indians Tickets, Tip #4) Bonus Tip: Try SeatGeek. SeatGeek is my favorite third party outlet for Indians tickets, and I'm not just saying that because they're an affiliate. SeatGeek searches from a number of ticket outlets, and I frequently find better deals there than on StubHub.
Click here to search for Indians tickets on SeatGeek and tell 'em Kurt sent you.
There you go; three ways (+1!) for you to land some possibly cheaper tickets to see the 2016 AL Champion Cleveland Indians. If you want to know a bunch of other ways to save money at Progressive Field, you should take the time to read this helpful guide.
Click here for more great tips on the Ballpark E-Guides Progressive Field page…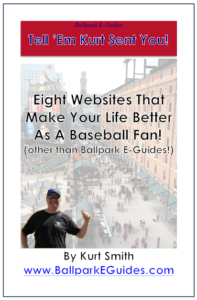 FREE eBook for traveling baseball fans! (That would be you.)

Do you love to visit ballparks and see live baseball? Subscribe to the Ballpark E-Guides e-mail newsletter today, and fill your scorecard with useful and entertaining info about your favorite ballparks, money-saving "tips of the week" for frugal fans, and of course, specials on the incredibly informative Ballpark E-Guides!
You'll also score this eBook, listing some of Kurt's favorite sites for traveling baseball fans, absolutely free of charge…just for stepping up to the plate and subscribing.
Get on base without swinging the bat…sign up today!