Fenway Park Food – Get Your Lobster Heah.
Posted by Kurt Smith
With the Fenway Park food menu expanding, one would think people would start to eschew the ubiquitous Fenway Frank. Fortunately that isn't happening, but if you're looking for some Massachusetts lobster with your baseball, you have several great choices at the ballpark in Boston…
Fenway Park Food, Lobster Bit #1) The Lobster Roll. The great thing about the Fenway lobster roll is that it's served on the same white bread bun as the Fenway Frank – and it's lightly toasted since you're paying a few extra bucks. The lobster roll includes lettuce, tomato chunks, and a creamy sauce. You can find it easily at the Fish Shack on Yawkey Way, but it's available in the concourses too.
(continued below)
Own the Ultimate Insider Fan's Guide to Fenway Park TODAY…
for just $4.99!

Click the image to learn more!

Fenway Park Food, Lobster Bit #2) The Lobster Melt. This has been added in the recent "ballparks need more grilled cheese" craze…it's a grilled cheese sandwich with steamed lobster, muenster cheese and a slice of tomato. It's "Yankee" lobster, for some head-shaking reason.
Fenway Park Food, Lobster Bit #3) The Lobster Poutine Stak. This amazeballs creation found in the Big Concourse was ranked #8 in For The Win's craziest ballpark snacks of 2017. But if loving steak fries covered with lobster bisque, cheese curds, lobster meat and chives is crazy, then I don't want to be normal.
There's three Fenway Park food choices for seafood lovers; but don't miss out on your other choices of food at Fenway, including the outside vendors, Tasty Burgers, Regina's pizza and so much more. Find the perfect ballpark grub for your next trip to Fenway with this handy and inexpensive guide.
Lobster Melt and Lobster Poutine Stak photos courtesy of Aramark.
More About Fenway Park:
Visiting Fenway Park – Five Tips For Newbies
The Fenway Frank – As Baseball As Baseball Gets
Can You Bring Food Into Fenway Park?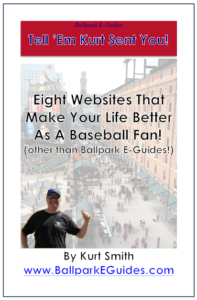 FREE eBook for traveling baseball fans! (That would be you.)

Do you love to visit ballparks and see live baseball? Subscribe to the Ballpark E-Guides e-mail newsletter today, and fill your scorecard with useful and entertaining info about your favorite ballparks, money-saving "tips of the week" for frugal fans, and of course, specials on the incredibly informative Ballpark E-Guides!
You'll also score this eBook, listing some of Kurt's favorite sites for traveling baseball fans, absolutely free of charge…just for stepping up to the plate and subscribing.
Get on base without swinging the bat…sign up today!