Can You Bring Food Into Camden Yards?
Posted by Kurt Smith
I am frequently asked, can you bring food into Camden Yards? The short answer is yes, you can…the Orioles allow a 16*16*8 soft-sided bag or cooler, so long as it doesn't contain alcohol or potential projectiles.
But the best part of this money-saving tip is the possibilities you have with outside vendors…so here are three tips on where you can find cheap outside grub to bring into the ballpark.
1) Pickles Pub/Slider's/The Bullpen. I'm not sure which of these three corner pubs sets up all of the tents and outdoor grills and full bars, but I expect it's all of them. The three establishments are across the street from the ballpark on Washington Street, and the entire area gets packed with pre- and post-game partiers.
You can get a hefty dog, sausage, burger, or crab cake sandwich here for much less than you'd pay inside the ballpark, of course, and there are tables with people selling peanuts, pistachios and bottled water too. Best part? Have a cheap Natty Boh while you're filling your goody bag…since you can't get cheap beer OR Natty Boh inside the ballpark.
(continued below)
Own the Ultimate Insider Fan's Guide to Oriole Park at Camden Yards TODAY…
for just $4.99!

Click the image to learn more!

2) Vendors On Howard And Conway Streets. There are a plethora of vendors with grills selling dogs, sausages and chicken sandwiches, and they'll offer you a nice deal if you're willing to haggle and offer to buy more at a discount. As with the vendors near Pickles Pub, on Conway Street, you can also buy much cheaper gear and souvenirs. This is ideal for people arriving by Light Rail…the vendors are right there across the street.
3) The Peanut Church. The Old Otterbein United Methodist Church is nicknamed the "Peanut Church"…they've been selling fresh bags of roasted peanuts cheaply since Camden Yards opened in 1992, and they've used the profits to maintain the church with a new roof and painting and such. If you're a person of faith you'll probably think it's a cool thing. It's on Conway Street, and if you're coming from the Inner Harbor you can't miss it.
Finally, there's a Jimmy John's and a Chipotle just steps away, if you want bring food into Camden Yards from someone familiar. But that's kinda boring.
You can bring food into Camden Yards and save quite a few bucks; but you do have great food options inside the park too, like several variations of crab meat items.
You should eat well at the ballpark…so see what's on the menu in this handy, inexpensive guide!
More about Oriole Park at Camden Yards:
Visiting Camden Yards – Five Tips For Newbies
Three More Camden Yards Food Options (Crab Stuff!)
The Best Way To Get To Camden Yards – Light Rail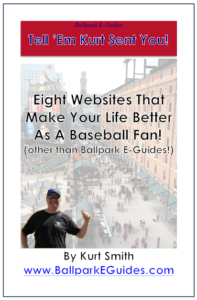 FREE eBook for traveling baseball fans! (That would be you.)

Do you love to visit ballparks and see live baseball? Subscribe to the Ballpark E-Guides e-mail newsletter today, and fill your scorecard with useful and entertaining info about your favorite ballparks, money-saving "tips of the week" for frugal fans, and of course, specials on the incredibly informative Ballpark E-Guides!
You'll also score this eBook, listing some of Kurt's favorite sites for traveling baseball fans, absolutely free of charge…just for stepping up to the plate and subscribing.
Get on base without swinging the bat…sign up today!