Best Way To Get To Camden Yards: Light Rail
Posted by Kurt Smith
When it comes to the best way to get to Camden Yards, you have enough options. Driving and parking generally isn't too bad, at least by downtown ballpark standards, and if you book ahead of time. But for most Orioles games, I prefer to use the MTA Light Rail, for several reasons:
1) MTA Light Rail is cheap. It's less than four bucks as of this writing round trip to use the streetcar, and parking at most stations outside of the city is free. You won't find decent parking at the ballpark that cheap.
2) MTA Light Rail is convenient. Park for free, hop on the streetcar, and get dropped off right there just a few steps from the gate. You can even use nearby stops to get on or off; the Convention Center and Hamburg stations are still closer than most ballpark parking.
(continued below)
Own the Ultimate Insider Fan's Guide to Oriole Park at Camden Yards TODAY…
for just $4.99!

Click the image to learn more!

3) MTA Light Rail avoids traffic. Maybe I should have ranked this higher. If you're driving in from I-83, traffic north of the ballpark in the city is brutal, especially in the evening when the Inner Harbor gets hopping. The streetcar may take some time trudging through the red lights, but at least you know it will get there. Sometimes when you're driving you're not sure.
For the best way to get to Camden Yards, you can't beat the convenience and price of the Light Rail system. But there are lots of other ways, including by boat or bicycle, and you do have some cheap parking options if you do decide to drive your car.
So to choose the best way to get to Camden Yards for your taste, best to order this inexpensive guide.
More about Oriole Park at Camden Yards:
Visiting Camden Yards – Five Tips For Newbies
Camden Yards Parking – Three Cheap Spots
Three More Camden Yards Food Options (Crab Stuff!)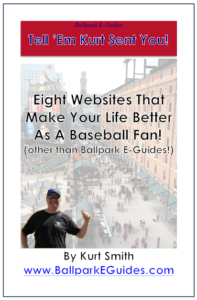 FREE eBook for traveling baseball fans! (That would be you.)

Do you love to visit ballparks and see live baseball? Subscribe to the Ballpark E-Guides e-mail newsletter today, and fill your scorecard with useful and entertaining info about your favorite ballparks, money-saving "tips of the week" for frugal fans, and of course, specials on the incredibly informative Ballpark E-Guides!
You'll also score this eBook, listing some of Kurt's favorite sites for traveling baseball fans, absolutely free of charge…just for stepping up to the plate and subscribing.
Get on base without swinging the bat…sign up today!