Cheap White Sox Tickets – Three Useful Tips
Posted by Kurt Smith
When the Pale Hose struggle at the gate, there are numerous ways to find yourself some cheap White Sox tickets. They're all well-detailed in the Guaranteed Rate Field E-Guide, but here are a few of my favorite tips.
Cheap White Sox Tickets, Tip #1) Get Team Ticket Alerts. I recommend this for every team, but the White Sox in particular offer very nice deals to their e-mail subscribers: monthly ballpark passes, flash sales of 200 or so tickets at a very nice price, and a "Sox Save of The Week". No need to pay face price, especially when you can be flexible about when you go.
(continued below)
Own the Ultimate Insider Fan's Guide to Guaranteed Rate Field TODAY…
for just $4.99!

Click the image to learn more!

Cheap White Sox Tickets, Tip #2) Use The Box Office. Except for Opening Day and Cubs games, most White Sox games don't sell out, and there's no online fee for buying tickets at the box office. If you're buying multiple tickets especially, the online fees add up, and they're not necessary. Just go on game day and get tickets there.
Cheap White Sox Tickets, Tip #3) Donate Blood Or Something. The White Sox hold community events and they offer free or discounted tickets to charitable groups…more so than most teams. Check the community and group tickets section of their website, because you may find a deal for philanthropic sorts.
Bonus Tip!) Try SeatGeek. My friends at SeatGeek usually have great deals on White Sox tickets, and I'm not just saying that because they're an affiliate of mine. Click here to check out their inventory of White Sox tickets.
There's three ways to save money on White Sox tickets, but there's plenty more deals out there…to know about all of them, best to order yourself this handy little booklet.
More About Guaranteed Rate Field:
Visiting Guaranteed Rate Field – Five Tips For Newbies
Guaranteed Rate Field Parking – Three Cheaper Alternatives
Three Foods To Try at Guaranteed Rate Field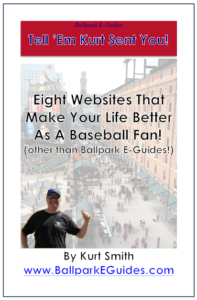 FREE eBook for traveling baseball fans! (That would be you.)

Do you love to visit ballparks and see live baseball? Subscribe to the Ballpark E-Guides e-mail newsletter today, and fill your scorecard with useful and entertaining info about your favorite ballparks, money-saving "tips of the week" for frugal fans, and of course, specials on the incredibly informative Ballpark E-Guides!
You'll also score this eBook, listing some of Kurt's favorite sites for traveling baseball fans, absolutely free of charge…just for stepping up to the plate and subscribing.
Get on base without swinging the bat…sign up today!