Cheap Parking at Camden Yards – Three Spots
Posted by Kurt Smith
What you pay for Camden Yards parking at Orioles games generally depends on where you're coming from…spots north of the ballpark tend to command a higher price, being closer to the nightlife and more ritzy hotels. So if you'd like to go cheap parking at Camden Yards, and go for an easier out too, here are a few south of the ballpark choices for you:
Cheap Parking at Camden Yards, Spot #1) Orioles Lots F, G, and H. You can actually book spots ahead of time in Orioles Lots B and C close to the ballpark fairly cheaply, if you do it well enough ahead of time…do that if you can…but Lots F, G, and H near the Ravens' stadium tend to be the cheapest choices, and they're not too far away. You can even use the Light Rail one stop to the ballpark if you want to shorten the walk.
(continued below)
Are You Spending $183.34* For One Orioles Game?
*Average cost for a family of four in 2016.

You can do better. Click the image to find out how.
Cheap Parking at Camden Yards, Spot #2) The Horseshoe Casino. The Horseshoe is about a mile walk from Camden Yards, and you probably wouldn't want to walk it at night. But for day games, a free parking spot in an attended garage works well, and the walk isn't too bad…Google calls it at about 18 minutes. No light rail near the casino yet, unfortunately.
Cheap Parking at Camden Yards, Spot #3) Bandito's Bar. Bandito's is a Federal Hill institution that recently started offering rides to patrons going to Orioles and Ravens games, and you can park on the street nearby free of charge. It's actually about as long a walk as the Horseshoe if you don't want to get a meal beforehand, but Bandito's gets pretty good reviews, they have daily food and drink specials, and you get a a free ride.
There's three Camden Yards parking options that won't break your bank at your next O's game, but there's plenty of other ways to get to Oriole Park, including buses, boats and bicycles…if you want to pick the best route for you, get yourself this handy little guide!
Photo of Bandito's shuttle courtesy of Bandito's Bar.
More about Oriole Park at Camden Yards:
Visiting Camden Yards – Five Tips For Newbies
Three More Camden Yards Food Options (Crab Stuff!)
Camden Yards Seating – Two Tips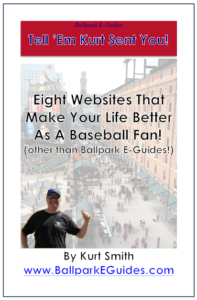 FREE eBook for traveling baseball fans! (That would be you.)

Do you love to visit ballparks and see live baseball? Subscribe to the Ballpark E-Guides e-mail newsletter today, and fill your scorecard with useful and entertaining info about your favorite ballparks, money-saving "tips of the week" for frugal fans, and of course, specials on the incredibly informative Ballpark E-Guides!
You'll also score this eBook, listing some of Kurt's favorite sites for traveling baseball fans, absolutely free of charge…just for stepping up to the plate and subscribing.
Get on base without swinging the bat…sign up today!
Save
Save
Save