The Best Way To Get To Nationals Park From Baltimore
Posted by Kurt Smith
For you Birds fans or other Baltimoreans looking for the best way to get to Nationals Park from Baltimore for a game, you have a few options.
Here I'm going to share some obvious routes…with a few things you should know.
The Best Way To Get To Nationals Park From Baltimore, Route #1: Take the Green Line Metro from Greenbelt. The Metro train Green Line runs from Greenbelt station, conveniently located off of I-95/495, to the Navy Yard-Ballpark station at Nationals Park in about 40 minutes. This is probably the easiest route, but you should have a plan to get back just in case this rare but frustrating occurrence happens.
(continued below)
Own the Ultimate Insider Fan's Guide to Nationals Park TODAY…
for just $4.99!

Click the image to learn more!

The Best Way To Get To Nationals Park From Baltimore, Route #2: MARC and/or AMTRAK. Amtrak runs trains from Penn Station and BWI airport in Baltimore to Union Station (Red Line) and New Carrollton Station (Orange Line), both of which are a two train ride to Nats Park. MARC runs from Camden Station to Greenbelt Station, requiring only one transfer, and the MARC train is much cheaper. Unfortunately MARC is only available during the day, so you'd need to use Amtrak (or a Metrobus, more likely, given the more frequent schedules) at least to get back after a night game.
This is a nice affordable option, especially using MARC, sparing you traffic troubles, and gas and parking money. Can be a little unwieldy though.
The Best Way To Get To Nationals Park From Baltimore, Route #3: By Car. If you're going to just drive, I highly recommend that you 1) book your parking beforehand, and b) avoid the most common highways like I-95, especially during rush hour. Try using MD295, which is truck-free, or if you're coming from a western suburb like Ellicott City, try using the six-lane U.S. Route 29 highway to I-95/495, and then to MD 295. Route 29 is less congested than I-95 and can save you some aggravation.
Those are three of the better ways to get to Nationals Park from Baltimore, but if you'd like the full lowdown on all of your transportation options for Nationals Park, including ferries and bicycles, get wise with this handy little guide to Nationals Park.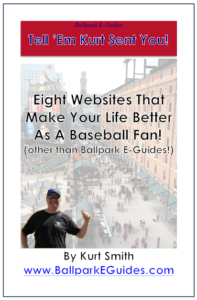 FREE eBook for traveling baseball fans! (That would be you.)

Do you love to visit ballparks and see live baseball? Subscribe to the Ballpark E-Guides e-mail newsletter today, and fill your scorecard with useful and entertaining info about your favorite ballparks, money-saving "tips of the week" for frugal fans, and of course, specials on the incredibly informative Ballpark E-Guides!
You'll also score this eBook, listing some of Kurt's favorite sites for traveling baseball fans, absolutely free of charge…just for stepping up to the plate and subscribing.
Get on base without swinging the bat…sign up today!
Save
Save
Save
Save